world
When will Europe learn to defend itself?
If there was one benefit for Europe from the administration of US President Donald Trump, it was that European leaders were faced with the harsh truth – the security of the continent is now in their hands.
Ever since the end of the Second World War and the subsequent founding of the North Atlantic Treaty Organization – NATO, it has been the US that has taken care of ensuring the security of the European Union (EU), until Trump came along and made it clear that this is not a service that is inclined to provide its European partners. At least not for free.
That prompted a number of leaders, including French President Emmanuel Macron and then-German Chancellor Angela Merkel, to talk about Europe's own defense capabilities. But then Joe Biden came to power in Washington, who warmed relations with Europe and the topic died down again.
With the war in Ukraine at the moment, this need for self-defense forces seems more pressing than ever, but European leaders seem to have forgotten what they were talking about just a few years ago. And the idea of ​​a common EU defense seems to have stopped entirely at the idea stage.
Similar mantras have been repeated by various politicians in Europe since 1998 and the end of the succession wars of the former Yugoslavia, when the Franco-British declaration of Saint Malo stated that Europe could not always be dependent on the Americans for its security.
Instead, however, things have remained largely unchanged since then, as the major European powers did not feel in any way militarily threatened and simply continued to rely on Washington.
The problem with the current situation was directly addressed by the Minister of Defense of Germany – Christine Lambrecht, who admitted that the situation is serious.
German Defense Minister Christine Lambrecht
"Germany and the Europeans depend on a peaceful order that they cannot guarantee alone," she commented in a speech from early September, adding that this is becoming a serious problem as America increasingly focuses on the Pacific. withdrawing it from Europe.
"Washington may no longer be able to guarantee Europe's defense to the same extent as it did in the past. The bottom line is clear – we Europeans, and especially we Germans, must do more to be able let's show so much military power ourselves that the other powers won't even think of attacking us," the minister also commented.
In truth, the situation with the Russian invasion of Ukraine made many European governments think twice and allocate money from their budgets for rearmament.
Berlin has also been trying to revamp its military for several years to make it combat-ready, while French forces, the continent's other leading power and the EU's only nuclear-armed force, continue to gain experience in various missions abroad.
However, both countries are quite far from what they should be in order to be accepted as guarantors of Europe's security. The simplest reason for this is that their armies can mostly defend their own territories, but not the entire EU.
A leading problem here is that within the EU there is no integration of the defense efforts of individual countries. Or to put it another way, the 27 individual member states of the community have their own 27 separate strategies, use different armaments and do not have a single plan that would allow them to pool resources and develop a single technique together.
According to former French Minister for European Affairs and current MEP Nathalie Loiseau, quoted by Politico, it is now necessary for France and Germany to work together and harmonize their defense actions, especially given the fact that Berlin currently has a huge military fund at its disposal. modernization of 100 billion euros.
However, Loiseau notes that the two countries' efforts are fragmented and time and resources are wasted because the two countries have so many different models of tanks, vessels and warplanes that synchronization becomes extremely difficult.
Photo: Wikimedia Commons, JohnNewton8
Mockup of the German-French-Spanish FCAS fighter jet project on display at the 2019 Paris Air Show.
Few things symbolize the woes and mistrust of this poor cooperation between the two leading European powers as well as the Franco-German-Spanish FCAS fighter jet project, which we are unlikely to see in the air anytime soon, if ever.
The FCAS project – short for "Future Combat Air System" – is currently mired in a series of delays and difficulties, and has recently faced further setbacks, even as European governments verbally promise a renewed commitment to defense after the war in Ukraine.
The first models of the fighter are not expected before 2040 thanks to disagreements between the French and the Germans over the leadership of the joint project.
On the one hand, Paris is angry over Berlin's recent decision to stock up on American F-35 fighter jets, which some interpret as a simple deviation from common goals.
"There is not a very clear line in Germany. Some things are reassuring, others are worrying. France cannot really rely on Germany in defense matters," said Pierre Aroch, a European defense expert at the IRSEM think tank, which is backed by the French defense ministry. .
According to him, Germany's priority at the moment is not to work on building a common European defense, but simply to rebuild its army, which until recently has been extremely neglected.
The German response to these criticisms is that the decision to buy the F-35 fighters does not change Berlin's commitment to FCAS. According to officials in Berlin, the purchase was made, only because the German Air Force needs new aircraft immediately, while putting FCAS into service is still far ahead in time.
In addition, officials in Berlin argued that Washington would not agree to US nuclear bombs being carried by an aircraft whose construction plans had not previously been provided to US intelligence.
Accusations of a lack of cooperation are also coming from France, with Germany's defense minister commenting that on the French side they are behaving as if they are leading the project.
"In everything we discuss, it must be clear in the end that we will be treated as equals. And that there cannot be French industrial companies that want to limit access to certain knowledge. We have to pay for it, but we do not get full access to all the data? That can't be," she further explains.
Lambrecht admits, however, that in order to boost common European defense projects, Berlin must abandon its policy of vetoing the export of German-made arms from allies to third countries.
For example, earlier this year, shortly before the war, Estonia was banned from selling weapons to Ukraine that Tallinn had received from Berlin.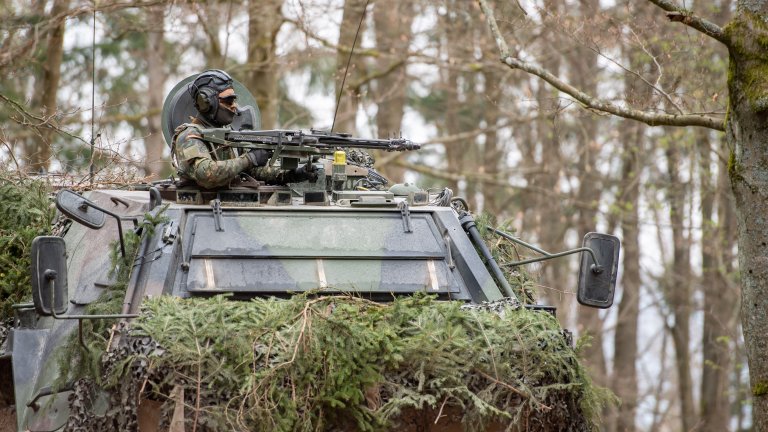 Photo: Getty Images
The German army is currently undergoing a process of rebuilding and revival. However, the concerns of its partners are that this very process is displacing all other attempts to think about a unified European defense.
And if it is clear that in a potential project for common European defense, France and Germany will be the two countries at its heart, then this project must first receive the green light from the European Commission (EC).
Brussels is already talking about the subject. In May this year, the EC proposed a new plan to coordinate military spending among EU member states. A key point of the debate took shape around the topic of whether countries should buy American or European armaments.
Josep Borrell, the EU's top diplomat, stressed that Europe buys around 60% of its armaments from outside the bloc and called for a shift to more domestic sources. The proposal is now being studied by defense experts at the Council of the EU, and by the end of the year individual countries are expected to have expertise on the matter.
However, the discussion is still at an early stage, and the amounts discussed so far are also quite small when it comes to defense spending. The EC proposes to allocate 500 million euros over two years to support the joint procurement of weapons, which is grossly insufficient for a truly large-scale reform aimed at synchronizing the individual countries.
But even if there is another, more generous proposal for a project from the EC, one important question remains – member states must first be convinced that they are buying state-of-the-art products created with the best technologies available. The reason here is that buying European weapons simply because they are European is not a workable philosophy, and individual governments have their own positions on the matter.
We must not forget that many of the EU member states are also members of NATO and some of them continue to see the Alliance as a leading entity in the security sphere. Until recently, Germany was the standard bearer of this idea, with many in Berlin still believing that any common European defense initiatives should take a backseat to common NATO initiatives.
The truth is that in order to have any kind of common European defense project and to come to the clearing of all these issues that are emerging as problems, there must first be a decision and a clear will that it must happen.
For now, however, everything still remains mostly in words and potential plans for the future.
Only after accepting that the European defense of the EU countries must be harmonized, that it must be in sync and work for its optimal development within the community, then we can talk about the specifics.
The EU still lacks this common goal. And until she announces herself, everything remains only talk in the realm of theories.
.