Entertainment
"We are here to tell a story and we will tell it with tears, sweat, mud and blood"
This is Emma D'Arcy's first time starring in a multi-million dollar franchise. And the reviews are rave, to say the least.
The actress takes on the role of Rhaenyra Targaryen after a ten-year leap that takes place between episodes five and six of House of the Dragon. Fans of the series were seriously worried whether the Briton would do as well as Millie Alcock, who entered the image of the younger Rhaenyra.
It turned out that their fears were in vain. D'Arcy took on the role without having read George R.R.'s books. Martin, but with a huge dose of ambition.
"We're here to tell a story and we're going to tell it with tears, sweat, mud and blood," she tells Vanity Fair.
Doubts about whether D'Arcy is the right choice for the role of Rhaenyra do not come only because of Millie Alcock's brilliant performance. The Brit, born and raised in Central London, identifies as non-binary and prefers to use "they/them" as pronouns.
Off screen, she prefers a short haircut and masculine clothes.
When she auditioned for Home of the Dragon, D'Arcy deliberately didn't read a line from the original book, Fire and Blood.
The reason, she explains in her conversation with Vanity Fair, is that she doesn't want the book to affect her performance in an inappropriate way. Instead, the actress shows how she imagines her Rhaenyra and is guided only by the parts of the script that are given to her. Her approach proves successful and Emma gets the role.
"Emma helped a lot and we had long conversations with her about how to make Rhaenyra look, when to look more vulnerable and when to be stronger," adds the production's makeup artist, Amanda Knight.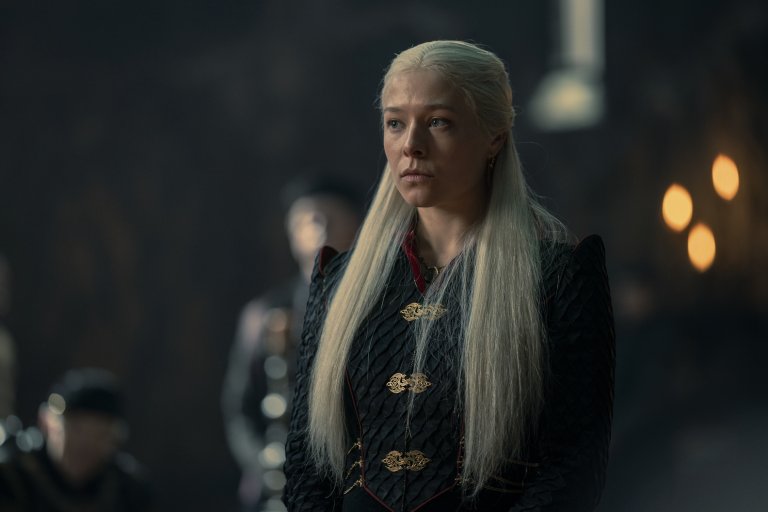 Photo: Warner Media
For D'Arcy, her non-binary nature also helps her better play her role as rightful heir to the Iron Throne.
"Renira sees men occupying spaces that she is not allowed to. She feels extremely close to her uncle Damon and wants to be allowed the same things [като на него]", the actress specifies.
She adds that both in real life and in "Dragon House" men are allowed a number of actions that women are not.
"I started from the same position when I was younger – I wanted to take the places that, in general, men take", Emma does not hide about her earlier years in the acting career.
D'Arcy also takes another unexpected approach to her role by choosing not to coordinate with Millie Alcock her performance in front of the cameras. The two actresses go out for drinks several times and talk about everything else, but not about the series they are in and about Renira's character in it.
The reason, as the Brit says, is that she wants to bring a "more mature, more erotic and more bubbly energy" to her role. D'Arcy emphasizes that this makes the difference between the young and the older Rhaenyra Targaryen even more apparent.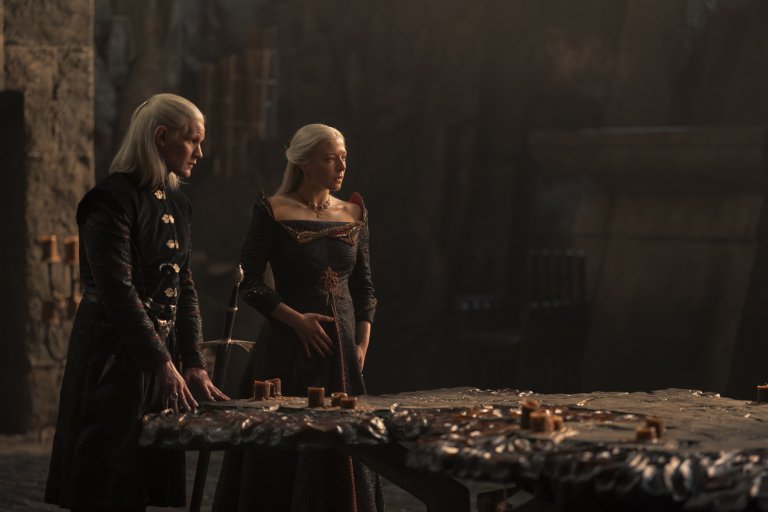 Photo: Warner Media
"I find it incredibly liberating to play other people," continues Emma D'Arcy, who is much more shy in real life.
However, filming The Dragon House comes with a number of challenges, including getting up at 5 a.m. to go through make-up and wig fitting. "We've talked a lot about what a royal of her rank should look like, but I love putting on that face," reveals Amanda Knight.
Although he loves his short hair, D'Arcy also really likes the wigs he has to wear as a Targaryen.
She says she even agreed to shave the hair above her forehead to make her wigs fit better and look more natural. "There is no greater compliment than when people ask if these are wigs. I love them!" emphasizes the actress.
It is also a real pleasure for her to partner so actively with her colleague Matt Smith. In one of the official clips for the HBO series, D'Arcy describes the strong bond she and Smith have developed both on and off the set. "God, I'm so thankful for Matt," exclaims the actress.
"He taught me how to play in such an intense environment. He taught me how to deal with pressure," D'Arcy said of his colleague.
HBO has already announced that "House of the Dragon" will be renewed for a second season, and most likely we will see many more episodes with D'Arcy in the clothes of Rhaenyra Targaryen. However, the actress is already looking at films on the big screen and more precisely at political thrillers.
She will take part in a film with the working title "Anna / Mother Russia", which will tell about the fate of the journalist Anna Politkovskaya. D'Arcy will take on the role of Politkovskaya's daughter Vera, directed by James Strong ("Doctor Who").
Production should be ready by the end of 2022.
.