Sasha Ilyich's assistant Velichko Kaplanovich, who led the CSKA team in the victory over CSKA 1948 with 2:1 due to the punishment of his compatriot, remained of the opinion that his team's success was deserved and congratulated the team.
"We deserved to win today. We entered the match a bit nervous and under pressure. We made a big mistake that almost got us punished, but we were lucky. As time went by we started to control the game completely and after the 35th minute we were leading the game. At half-time we talked about staying calm because we were sure we would score. We conceded a goal, but after it we showed character. We looked even better on the pitch and after the equalizer we didn't stop. We knew we had to use the moment to win the game. We completely dominated, I congratulate the success of my players to the entire coaching staff," Kaplanovic said.
"I'll be completely honest – I don't care what happens around the game. But I know what this game means to the club and to the players. We worked hard on how we would look on the pitch. We wanted the players before the game and at half-time to be completely focused on their game and nothing else. We didn't have to let anything throw us out of rhythm to reach this positive result," added the Serbian.
He was also asked about CSKA's decision to start the match with only one Bulgarian in right-back Ivan Turitsov.
"There should be more Bulgarians in CSKA. However, Yomov and Turitsov are the only ones who can be essential in such matches. Petrov had problems with his knee, but he is a player who can develop and participate in such matches. Shopov also has a great future ahead of him. He works with great desire. But today's game was not a time for them to come into play. The team also has players like Papazov, Martynov, Donchev, but they have to work hard to be part of the team. You have to find the right time to put them on the field so they don't burn out. What depends on me and the head coach is that the players get the support they need. But they must first earn that trust. Without a doubt, both Sasha Ilich and I know what CSKA means to them. It is normal in such a match that they want to play at 100 percent," Kaplanovic added.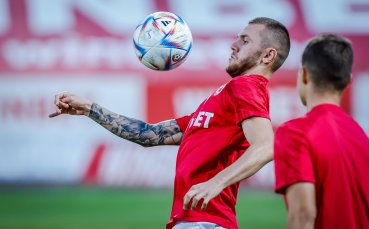 He did not reveal any details about what was happening with Georgi Yomov, who was found guilty of doping.
"I have no information about what is happening with Georgi Yomov. I know as much as you do. At the moment, the lawyers are dealing with it. In this situation, we can only show support to Yomov. I wish him to come out stronger from what happened," concluded Sasha Ilic's assistant.