Los Angeles authorities may not have charged actor Armie Hammer with allegations of raping and abusing women yet, but his career seems to be all but over at this point.
This was taken care of by the short three-part documentary series House of Hammer, which detailed the allegations against the actor and featured accounts from some of his alleged victims.
And to top it all off, his own Aunt Casey gives a more in-depth account of the overall culture of violence, over-control and harassment that has been running for at least four generations within the wealthy Hammer oil clan.
House of Hammer is full of revelations about the systemic violence and abuse of women for generations – starting with the lovers of the patriarch of the family – oil magnate Armand Hammer, through his son Julian's crushing behavior towards the women in his life, and towards his own children, and to the brutality of Armie's father – Michael, who grew up in an environment where women were easily replaceable objects.
Parallel to this is the behavior of Armie himself, who, while married to his wife Elizabeth Chambers, with whom he has two children, maintains intimate relationships with multiple women and places them in a frankly toxic environment of control, surveillance and violence, disguised as like care and attention.
A surprisingly negative reaction to the series came from Effie, the woman whose accusations against Armie Hammer led to him being investigated and held liable for sexual assault altogether.
It was on Effie's accusations that the Los Angeles police also started an investigation against the actor, which, however, has not led to anything significant so far.
Now the 26-year-old, who is known to live in Europe and is reported by some media outlets, including BNT, to be Bulgarian, has expressed a clear negative opinion of House of Hameer, saying that the series reminded her in a very unpleasant way of the trauma she experienced.
In May 2021, Effie gave a press conference where she detailed her relationship with Armie Hammer and the abuse he subjected her to.
Although she flatly refuses to be a part of the series by directors Eli Hakami and Julian P. Hobbs, Effie's claims about Armie Hammer are detailed in the three episodes. It includes screenshots she posted on her Instagram account and a clip from her 2021 press conference where Effie says the actor raped her.
The woman told the Los Angeles Times that she found it "inappropriate" to use such a "tragic, vulnerable moment" in the lives of the victims and turn it into a series that has no relation to the process of treating the victims and protecting their personal lives.
"The way they took advantage of my trauma is disgusting. When I kept screaming no, they moved on, saying they didn't need my permission, it reminds me of Armie," Effie told the publication.
The opinion of the creators of House of Hammer is also sought from the media.
One of them, Julian P. Hobbs, points out that the accusations that Effie made against Armie Hammer via her Instagram account in early 2021 were covered widely by the media and entered the public discourse, as was the case with her later press conference.
He also commented that the young woman has the right to express her opinion about House of Hammer, but the people who participated in the project are proud of the final result.
"Effie has made it clear that she thinks making any kind of production out of these events is somewhat problematic. As filmmakers, we don't share that view. We feel that we actually have an obligation to tell the stories," adds Hobbs.
According to him, if the making of films is stopped because someone has said that they do not want their story to be screened, no more films will ever be made.
"The reality is that not everyone wants to participate in such productions," says the director.
Although Effie refuses to be involved in any way with House of Hammer, one of the interviewees in the episodes is her lawyer Gloria Allred, who is a prominent activist against violence against women and has defended a number of victims of such crimes.
In the show, she also raises the real legal issue with the behavior of Armie Hammer, whose lawyers claim that all of his relationships with women were completely voluntary.
"Perverted is not against the law. Rape is," commented Allred.
Hammer's lawyer Andrew Brettler has denied the attack, describing Effie's claims as "attention-seeking" and "lacking legal merit".
The messages she put out on her Instagram account, which were subsequently shown on House of Hammer, show that she herself tells Armie Hammer in a chat between them that she was not ready for the sexual abuse he subjected her to, and she tried to escape, but he wouldn't let her.
According to her, she was not prepared and did not expect such behavior from him.
The relationship between Effie and Armie Hammer was on and off and lasted about four years, mostly through texting and occasional meetings.
In one of them in Los Angeles, he subjected her to 4 hours of rape, combined with blows to her head and any other violence to which she did not consent.
In leaked chats, Hammer himself admits that he went further with Effie than with any other woman.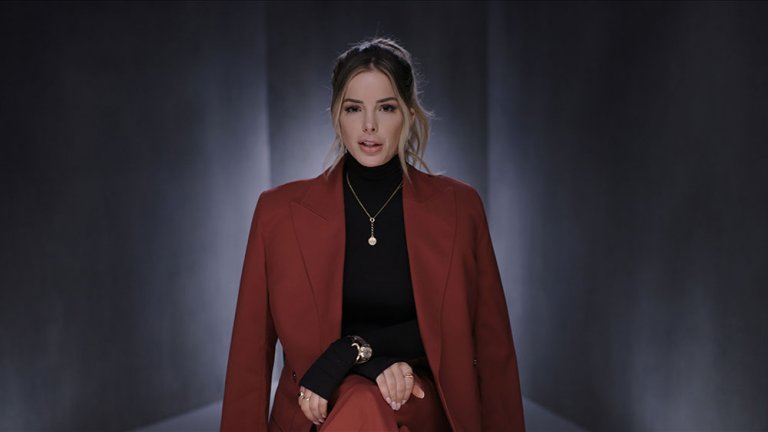 Photo: Discovery+
House of Hammer relies heavily on Courtney Vucekovich's account of the relationship she has with Armie Hammer in 2020.
Similar experiences are shared by other of his "friends" – Courtney Vucekovic, who has a central role in House of Hammer, and Paige Lawrence.
Both said he wooed them in exactly the same way, taking them to the same places and calling them the same derogatory names, as well as subjecting them to identical forms of sexual abuse.
Hammer disguised his sexual fantasies as BDSM, but both experts and his victims are adamant that the actor's behavior lacked key moments of BDSM culture, especially the part with trust and recognition of the partner's boundaries.
All the women describe Armie as a skilled manipulator who takes advantage of their own fears and old traumas to manipulate and play with them later, presenting all his behavior as care, interest and love.
The Discovery+ series is not yet available for viewing on streaming platforms in Bulgaria.
.