In many of Julianne Moore's best films, there is a signature moment – when her eyes narrow, her vision blurs and the mask her heroine wears falls decisively right before the line of the grand reveal.
It's in Boogie Nights, when Amber Waves, a porn star and junkie with thwarted motherhood dreams, takes her last dose and breaks into dramatic, dying laughter on screen.
It's also in Magnolia, when Linda Partridge realizes that she loves her dying husband, with whom she entered into a marriage of convenience.
"How dare you ask me about my personal life," Moore's character says to the pharmacist in "Magnolia," seconds before her eyes well up with tears.
This look of the actress should have been present in "Can you forgive me?" – the biographical drama about writer and forger Lee Israel, which in 2018 was nominated for three Oscars.
According to pre-production plans, Moore is the actress who was supposed to play the writer who forges letters and sells them for a living. From the first reading of the script, the actress became obsessed with Lee's life and the paradoxes that the author herself created in part.
In building her character, the star follows her usual course of work – psychologically dissecting the character so that it is as believable as possible, and preparing changes to her appearance to give viewers an authentic Lee Israel, not just another role of the well-known Julianne Moore.
In more than 50 films of her career, this technique did not make a dent, but when she applied it in "Can You Forgive Me?", her ambition to get 100% into the skin of her character caused her to be fired from the production, and the role her to go to Melissa McCarthy.
"I've only been fired twice in my life. Once when I was working on an ice cream cart, and the second time when I was working for Can You Forgive Me?" Nicole fired me (Nicole Holofsener, screenwriter of the film note ed). I think he didn't like what I was doing. She and I had different ideas of what a heroine should be," the actress says on The Andy Cohen Show.
Moore's dismissal comes just six days before the start of filming, and the reason for the conflict between the actress and the main screenwriter starts not so much from the psychological characteristics of the film Lee Israel, as from details about her appearance.
According to the actor who played Jack in Can You Forgive Me? – Richard E. Grant – the bone of contention in the production was whether the portrayal of Lee Israel should match the actual historical figure.
Julianne Moore thought that if a film was going to be made about the life of the writer-forger, every detail should be based on reality, until Nicole Holofsener did not share her opinion.
"Julian wanted to wear a prosthetic nose and a weight suit, and Nicole told her – No, you won't," Grant told Britain's The Sunday Times.
Moore's attempts to convince the project's co-writer Jeff Whitty, as well as director Mariel Heller, that without props her performance would sag, hit a snag, ending her work on the biographical drama.
However, this setback did not change Moore's approach to the films. Always before taking on a role, she does a thorough psychological analysis, and subsequently, a portrait of her character. Her desire is to extract the human traits from him, absorb them and recreate them in history.
Does that make her a method actor? Not at all.
The actress prefers to consider herself a researcher. For an actor who seeks the analytical approach to the role, not for an imitator who transfers other people's problems one to one into his own life.
"I have children and it would have been unfair to them if I had chosen the methodical approach. In my younger years I used to bring the work home, but now I try to lower the barrier. I don't want my children to see me as an actress. I don't want to they watch my films. I want to remain a mother to them," Moore told The Guardian.
For the upbringing of her children, the actress has another golden rule – she shapes her program according to their school hours, so as not to force her daughter and son to change classes in the middle of the year.
"I wish my parents had done the same, but they were mindful of their professions and my childhood was much different. I went to a total of 9 schools. I didn't manage to create long-term friendships because we moved often. My only constant books were my friend," the actress told the New York Times.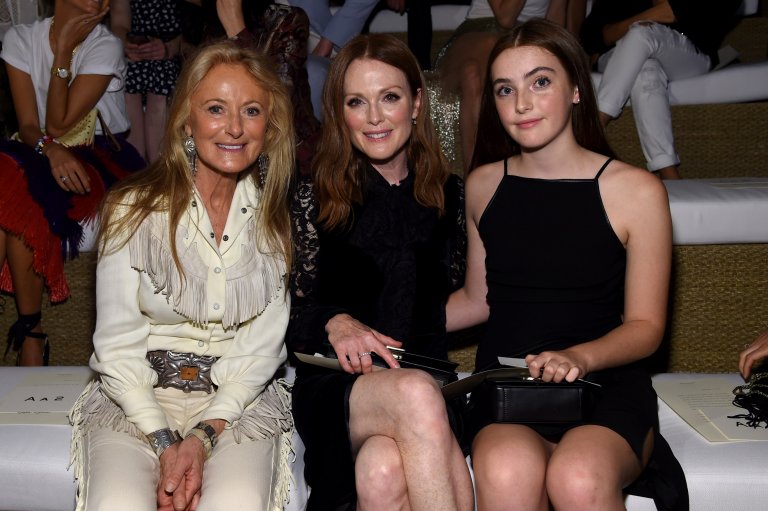 Photo: Getty Images
From today's perspective, Moore sees his childhood as dysfunctional and unstable. She is the child of a military judge and a clinical psychologist, who often changed residences, but she believes that it was this lifestyle that sowed her talent as a good actress. He taught her to explore human nature and behavior when the environment changes.
A factor for her strong curiosity about people is also her parents, who never had the trivial conversations like "How was your day?". At dinner and in front of their children, they discussed in detail the cases they were working on and analyzed their hypotheses out loud.
"This taught me not to be afraid of people, their emotions and their stories. That's why I'm only interested in films that explore human nature in depth, not fantasy and action," says the actress.
Her routine of doing extensive research before agreeing to a role continues even now. Despite the "painful" experience, she says, with "Can you forgive me?"
The actress strives to be the most accurate interpretation of her character – to match the physique, voice, character, actions, and over time this pedantry of hers grows. Nothing that once got her fired.
.