"My ambition was to be remembered. But to be remembered as a loser? No. I wanted to be remembered for making an impression and doing things that no one believed I could do."
The words are from Robin Deakin – an ambitious but very unsuccessful fighter, who received the unhappy nickname "Britain's Weakest Boxer".
Deakin is destined for the kind of fame that hardly anyone dreams of, his name making the rounds of the world's media after recording a 51-fight losing streak in his professional career.
That's right, 51 times in a row he leaves the boxing ring defeated, but he does not give up, which in itself is worthy of respect.
However, the crushing streak of defeats does not give a true picture of this athlete who has overcome great obstacles to make it to pro boxing in the first place.
Born with deformed legs, he underwent over 40 surgeries in his early years and was unable to walk on his own until the age of 6.
At first, boxing is offered to him simply as an activity to improve his mobility, but it turns out to be the start of an extraordinary journey for Robin.
"I was almost 6 when they took me into the gym. I was still in the wheelchair but I was trying to practice kicks and the coaches were saying, 'This one would be really good if he could walk,'" Deakin recalled.
"I went on to have leg surgery, got a bit stronger and went to physio. I gradually started walking, small steps at first. I went to boxing to strengthen my legs and I found it really helped. It also helped my confidence, I was getting stronger".
"I started to believe in myself instead of being the shy kid that others bullied. It was good to have the confidence to be myself."
When he grew up, Deakin significantly improved the condition of his legs and even began to participate in amateur tournaments, successes were not long in coming. Still very young and very motivated, he won a silver medal in Limassol and reached the semi-finals of the English National Amateur Boxing Championships.
Robin had 76 amateur light welterweight bouts and it was time to make his pro debut in 2006.
It was a big step and it proved successful as the Brit defeated Sean Walton on points in his first professional match at London's historic York Hall.
However, his next match turned out to be too hastily arranged, he did not have enough time to prepare and Deakin lost to Edwards Krauklis at Wembley Arena, which turned out to be the beginning of a long negative streak.
For an incredible nine years, Robin Deakin recorded only losses, including to future champions Anthony Crolla and Stephen Smith, but also to an endless number of anonymous people who subsequently achieved nothing.
How can you be willing to continue your career with so many defeats?
"I was addicted to pain," explains Robin.
"It sounds stupid, but I like things that other people avoid. I like pain, I like being in unknown territory and something bad happening. It didn't matter to me whether I won or lost."
"When I fought the best, I showed up looking good. I had a fake tan and the famous brand Suzie Wong made my outfits and I looked good. I always looked like a very serious boxer, but I finished second!"
The lowest point in his career was in 2014, when his license was revoked, simply because the British Boxing Board were worried about the health of a man taking such serious blows.
Even then, Robin Deakin did not give up and managed to win a German license to continue racing.
Finally, in 2015, his long-awaited second professional victory came – against the Latvian Denis Kornilovs at the same place where Deakin won in his debut 9 years earlier.
"It was a huge thing for me… I cried in the ring," he admits. "But I'm not sure if it was happiness. It was more of a relief. Otherwise, the losses were like a weight on my shoulders."
Robin owes a lot to former British welterweight champion Michael Jennings, who takes it upon himself to prepare him for the match with Kornilovs and even shelters him in his home.
"Michael is one of my best friends in boxing. I lived with them. People don't know, but then I was homeless, I had nowhere to live. I lived in his home theater room for four months. And I trained every day."
"It was crazy when I finally won. The news went around the world. Floyd Mayweather and Mike Tyson shared the story of my disability as a child."
In 2018, Deakin threw down the gloves and ended his professional boxing career with just two wins from 55 fights. But that doesn't mean he's done fighting.
He makes another bold move and moves into the ruthless world of boxing without gloves. For Robin, this is a form of masochism and a way to escape from himself.
Depressed, the boxer uses the matches in the ring to self-harm and at the same time somehow support himself.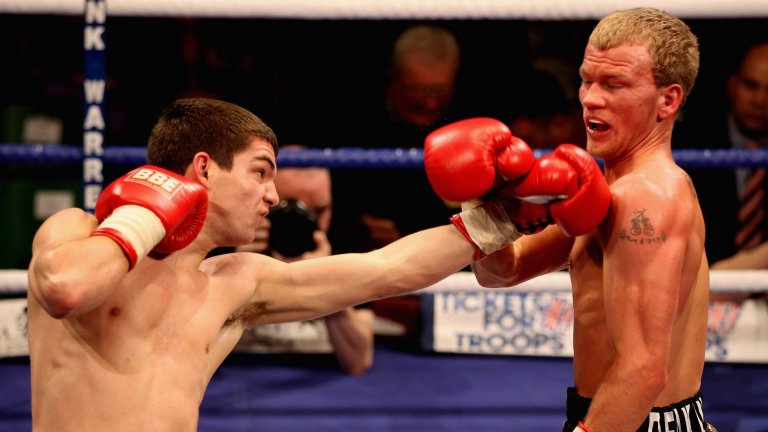 Photo: Getty Images
"I had nowhere to live again, I was going around hotels… that's why I accepted so many fights to have a place to stay for a few days".
His first four matches in boxing without gloves ended with three defeats and one draw. Then finally Deakin decides to retire after finding happiness and stability in the woman by his side.
However, this is not final and "Britain's weakest boxer" is tempted to return for one last fight – against Ben Hatchett, which ended in the familiar way with a loss.
"I hadn't done anything for two and a half years, so I accepted. I had met my wife and I was happy. They offered me a fight three weeks before the date, and I hadn't trained for two and a half years, but I accepted. I don't turn down fights, I don't care what they are. That's the fighter's instinct," Deakin is convinced.
Today he continues to have problems with his legs and will undergo another operation – but his ambition is to organize another fight after it: "To see if my legs can take it".
Even if his sporting journey ends with another loss, the boxer insists that he is proud of what he has achieved in his career.
"Teachers at school kept telling me that because of my disability, I wouldn't become a boxer. I wanted to prove to people that it is possible when you set your mind to it," says Robin categorically.
"Whether I won or lost, I didn't care. In the end, I just liked fighting."
.