On August 1 of this year, President Joe Biden announced that the US military had carried out an airstrike in Afghanistan that killed one of the most wanted terrorists in recent years – Al-Qaeda leader Ayman al-Zawahiri.
Soon after NATO withdrew completely from the country and the Taliban took full control, US intelligence learned that Zawahiri's family had moved to live in the Kabul area. It took months of surveillance before it was confirmed that he too was there, and only then was the drone strike given the go-ahead.
Zawahiri's death in Kabul confirmed earlier fears that the Taliban in Afghanistan remained well-connected to al-Qaeda, despite a commitment to cut ties with terror networks that was a key part of the NATO withdrawal agreement.
Zawahiri most likely resided in the capital with the full knowledge of at least part of the new government there. The house where he was struck and where he lived for the past year is believed to be owned by a relative of Sirajuddin Haqqani.
He is not just a member of the Taliban, but the leader of the Haqqani terrorist network, as well as the acting interior minister and second in line to Emir Habitullah Akhundzada.
In this sense, the timing of Zawahiri's elimination is probably not coincidental at all. This happened on the eve of the anniversary of the withdrawal of NATO forces and the entry of the Taliban into Kabul, which means that it is an obvious hint to them for not keeping their promises.
Zawahiri's death could be said to be a significant success in the war against radical jihadism.
It was he who took over the leadership of Al-Qaeda after the elimination of bin Laden in 2011 and not only managed to preserve the integrity and global nature of the network, but also expanded its activities.
His real contribution to the group is that he was able to save it by changing the organizational model. Al-Qaeda is currently a fluid and highly decentralized structure, where responsibility falls primarily on regional leaders.
This way allows more flexibility in decision-making and autonomy of action without significantly limiting the power of the central leadership, which in turn can more easily remain hidden.
In essence, Al Qaeda's structure resembles a "franchise" model.
With it, the name itself represents an established and working "brand" to which local or regional organizations want to be associated. These are mostly radical groups with many years of experience and traditions at the local level.
They accept al-Qaeda's ideology and publicly pledge their allegiance to its leader, in return for which they receive automatic access to a global network of contacts, logistics, financial flows and all kinds of support. For its part, Al Qaeda does not expend resources to build and "develop" a structure in a foreign place and uses local channels to spread its ideology.
In this sense, the overall focus is shifting, with the global jihad now being waged locally on the battlefields of the Middle East and Africa.
Under Zawahiri's leadership, the organization lost ground to the self-proclaimed Islamic State, but it also brought some benefits. On the one hand, Al Qaeda used this time to rebuild and regroup while the world was mostly focused on destroying IS in Syria and Iraq.
On the other hand, Zawahiri's organization managed to present itself as a more reliable, moderate and compromise alternative to IS within the Salafi-jihadi community. Especially after the latter's losses in Syria and Iraq.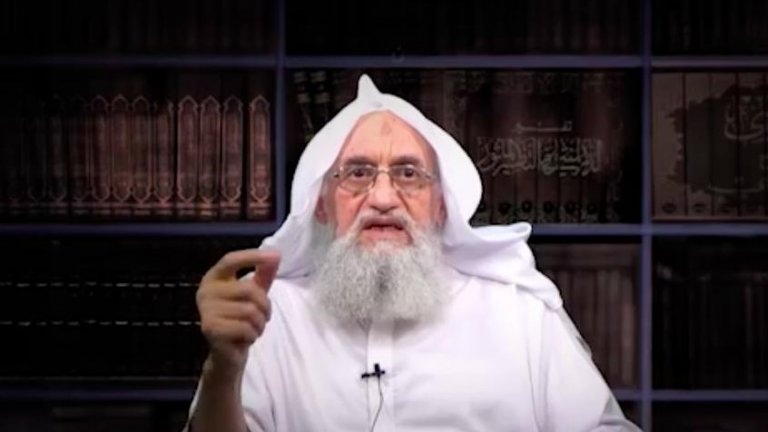 Ayman al-Zawahiri
Although Al Qaeda has proven to be less active than some of its competitors, that does not mean it has abandoned its goals, consolidating its position in places around the world such as Yemen, the Sahel region, Somalia, Syria, India and Pakistan on the backdrop of chaos, violence and statelessness on which it capitalized to garner support.
With the death of its leader, however, the global network now faces a new challenge.
The most likely successor to Zawahiri is the Egyptian Saif al-Adel – a veteran with experience in Afghanistan, Pakistan, Egypt, Sudan and Somalia, who also directly participated in the bombing of the American embassy in Kenya in 1998.
In recent years, he acted as Zawahiri's envoy to Syria and also mentored Osama bin Laden's young son, Hamza, who was considered a potential future leader of al-Qaeda before he was killed in a US airstrike in 2017. and 2019. Adele, 62, is currently believed to be hiding somewhere in Iran.
There are other options for Al Qaeda leaders. One of them is Abd al-Rahman al-Maghrebi, who is also likely in Iran, while other options include regional branch commanders in North Africa and Somalia – Yazid Mebrak and Ahmad Dirie.
Regardless of who the new leader of Al Qaeda will be, it is clear that he will be faced with the task of consolidating his own authority within the organization and preserving its potential.
In any case, the death of Zawahiri does not mean the end of Al-Qaeda.
A terrorist group does not survive for more than three decades if it depends on only one leader, and this one in particular has proven itself capable enough to adapt and survive, despite pressure from the US, its allies or the rival Islamic State.
.