Entertainment
The charming macho who turned down roles with kisses and sex scenes
"I don't have an acting education; I couldn't do classics. What I can do is play myself. And most of all I like not to speak at all …
I study the script and then try to "get into the shoes" of the character. It is very mysterious how this happens. I can't explain it. There are so many mysteries in cinema that when you think about them, you never want to make films," says the actor in an interview.
It's been 35 years since Lino Ventura passed into the afterlife

Italian actor and director Vittorio de Sica (1901 – 1974, left) and French actor Lino Ventura (1919 – 1987) discuss their upcoming collaboration on 'Il Giudizio Universale' (The Last Judgment), Rome, 1961 (Photo: Getty images)

Ventura is known around the world as a French actor, although he never actually received French citizenship.
Angiolino Giuseppe Pasquale Ventura was born in Italy – in the city of Parma. His father, Jean Ventura, ran away from his pregnant girlfriend Luisa Borini, which is why the future actor was called Angelo Borini for a long time after his birth.
His mother called him affectionate names like Angelino or Lino. And subsequently, viewers will also remember and love him precisely as Lino Ventura.
French Wikipedia calls him "the Italian star of French cinema". There is something significant in the fact that the future favorite of the French public, whose name even bears a square in Paris, appeared in the white world in 1919 on the very day of the national holiday of the country that would shelter him after his arrival there as a poor emigrant .
In Paris, he had to fend for himself and help his mother, which is why he left school very early, without even completing his primary education.
He married very young (on January 8, 1942) to his great love, Odette, with whom he lived for 55 years until her death in 1987. Just a few days after the wedding, he was drafted into the army. He ended up in Yugoslavia, deserted and returned to occupied Paris, where he hid with his wife's relatives.
After the end of World War II, Ventura devoted himself to wrestling and reaped success on the mat under the name Lino Borini. Even in 1950, he won the European title in classical style wrestling. But a serious injury interrupted his sports career.
He intended to start organizing wrestling competitions, but Fate had decided otherwise for him.
Director Jacques Becker was looking for a tough guy for a cameo role in his gangster drama Don't Touch the Booty (1954) with Jean Gabin.

Actor Lino Ventura, circa 1975 (Photo: Getty Images)

The great actor liked the debutant, and the film itself was a great success, which foreshadowed his future. Thanks to his physical data, voice and organic behavior in the frame, Lino quickly progressed in the cinema. He appeared in many films alongside Jean Gabin, learning from his mastery and before long he was recognized as one of the greatest French film actors.
He played with other great stars such as Bourville, Alain Delon, Claude Rich, Bernard Blier, Jacques Brel, Michel Serault, Jean-Paul Belmondo and worked with leading directors such as Louis Malle, Claude Sauté, Claude Miller, and with the great screenwriter Michel Audiard.
In "The Adventurers" (1967) he played in tandem with Alain Delon.
He gained enormous popularity, including in our country, where he is known for films such as "Dangerous Muzzles", "The Sicilian Clan", "Roma Boulevard", "The Last Known Address", "Highest Corpses", "One Hundred Days in Palermo" and others.
"The Second Breath" (1966) by Jean-Pierre Melville was screened in our country only in the Sofia film library "Druzhba" (today "Odeon").
At the end of his career, Ventura brilliantly transformed himself into the role of Jean Valjean in Robert Ausen's Les Miserables (1982).
He starred in a total of 76 films, creating a gallery of unforgettable screen images through which he always tried to reveal the truth about his characters without succumbing to the temptations of fame and easy profit.
He has always avoided taking part in sex scenes. Moreover, he refused to be photographed even in scenes with the most innocent kisses. In fact, there are such moments in only two of his films.
Ventura remained to the end of his life a deeply moral person, regardless of the numerous temptations to which he was subjected, taking pictures with most of the most beautiful actresses of French cinema.
He was a strict and understanding father for his four daughters – a real pillar of his family. And after one of his daughters became disabled as a result of an incurable disease, he decided to become a protector and benefactor of thousands of children with a similar fate.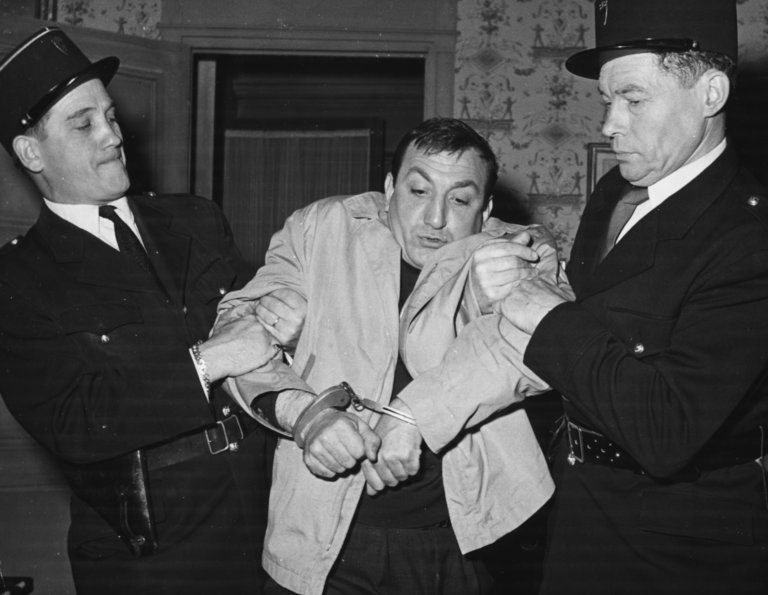 Actor Lino Ventura is held by two police officers while filming a scene from the movie 125 Rue Montmartre, where the actor is injured on set and stops filming, 1959 (Photo: Getty Images)

Without publicizing it anywhere (journalists learned about it only after his death),
Lino Ventura founded with his own funds a network of boarding schools for disabled children Perce-Neige (Kokiche), which helps disabled children and their parents.
Lino Ventura died in Saint-Cloud near Paris on October 22, 1987 of a heart attack at the age of 68. At his funeral, thousands followed his coffin through the streets of Paris.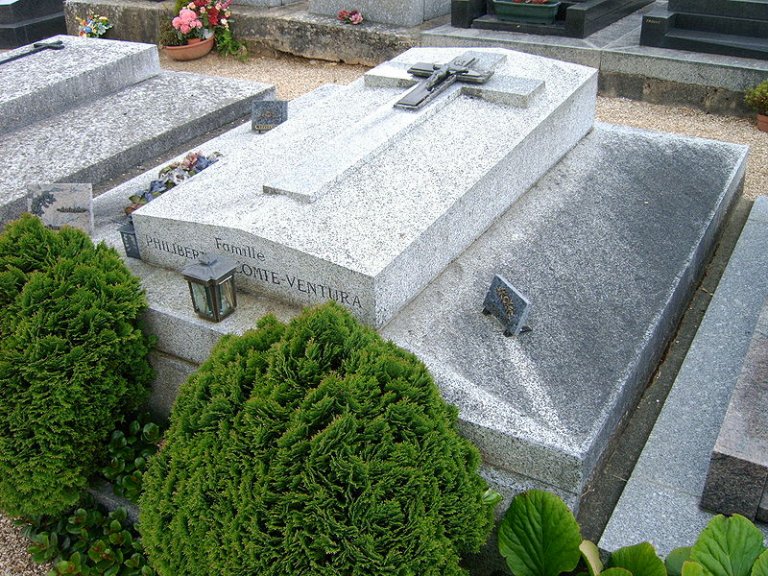 Ventura's grave at Le Val-Saint-Germain, Essonne

Throughout his career, he has been one of the most popular actors of French cinema. He speaks French without any accent (except Parisian early in his career) and speaks Italian with a slight French accent after arriving in France at age 7.
Ventura attributes much of his success to his limited acting range; and often says, "If I can't believe in a character, or if something doesn't sound believable, I can't play it."
In a 1980 interview, he said that "in the previous year I had begun to realize how incredibly lucky I had been since the age of 9, how much I had been loved by so many people. When I play, I do what I love, and even I they're paying for it. I'm putting myself at the service of the film, not putting the film at my service."
He turned down several roles – a part in "Apocalypse Now" (cut from the final film), a role in a Robert Aldrich film and the role played by Francois Truffaut in "Close Encounters of the Third Kind".
Ventura says, "The story in a movie is everything. My good friend Jean Gabin said 25 years ago that there are three important things in movies: the script, the script, the script."
Although his wife and four daughters are French, he never wished to give up his Italian citizenship out of respect for his parents. Nevertheless, he is ranked 23rd among the 100 greatest Frenchmen, 17 years after his death.