Rick Prado is one of those people who never had to work in an office from 9 to 5. For much of his career, he found himself in some of the most dangerous parts of the world, dealing with some of the most dangerous people.
Although he was not born in the United States, he feels himself to be an American and has devoted his entire life to the service of his second country.
His first homeland is Cuba after all. He was born on the island in 1952, but with the coming of the revolution, his family was forced to flee. He once led a comfortable middle-class life in his home country, but when the Castro regime took power, the Communists took away his father's family business, which involved a coffee shop, gas station and cigar shop.
"There was only one place to go – America," Rick wrote in his autobiography, Covert Ops: The CIA Life of a Shadow Warrior. "The second time they took over my town, I saw them shoot people right in front of me. There was a shootout literally in front of my house."
So the Prado family gathers for one last dinner together before putting the 10-year-old on a plane to the US. There, Rick lives in an orphanage until his parents finally manage to leave Cuba eight months later and subsequently settle in a Miami suburb populated entirely by refugees from the Castro regime.
As a teenager, he became enamored with Ian Fleming's James Bond books, took up martial arts and became involved with a local Latino street gang and petty crime. On one occasion, he was detained by the police for fighting with anti-Vietnam War protesters.
The reason for this is that from a young age he felt patriotic and believed in American values. So he enlisted in the Army in the Air Force Special Forces, where he served as a paramedic with the hope of being sent to Vietnam.
That never happens and he leaves, transferring to the National Guard, but his real desire is to get into the CIA. His first application there was rejected, but then he was sought out when it turned out that people with Spanish and big "cohones" would be needed.
Prado was drafted by the government to serve in a covert operation in the Central American country of Nicaragua, where the far-left Marxist Sandinista Front for National Liberation has been in power since 1979 following a revolution.
His job is to contact the local anti-communist rebels, known as the contras, and help train them in guerrilla tactics in the deep jungle of Nicaragua.
"The crusade of the contras became my crusade," said Prado. "
The secret mission was just one part of President Ronald Reagan's broader strategy to oppose the Soviet Union around the world through overt and covert aid to anti-communist resistance movements in Africa, Asia, and Latin America.
So Prado found himself in the jungles of Nicaragua, where he helped deliver food, medical supplies and weapons to the counter-insurgents, while also acting as an instructor in military tactics and medical aid.
In fact, the entire operation in the country became one of the great scandals of the Reagan era, when the Sandinistas managed to shoot down an American plane and capture CIA agent Eugene Hassenfuss.
The American presence in Nicaragua is exposed, and the scandal grows as details emerge of a secret and complex plan to finance the contras by selling arms to Iran and negotiating with Hezbollah to free American hostages in Lebanon.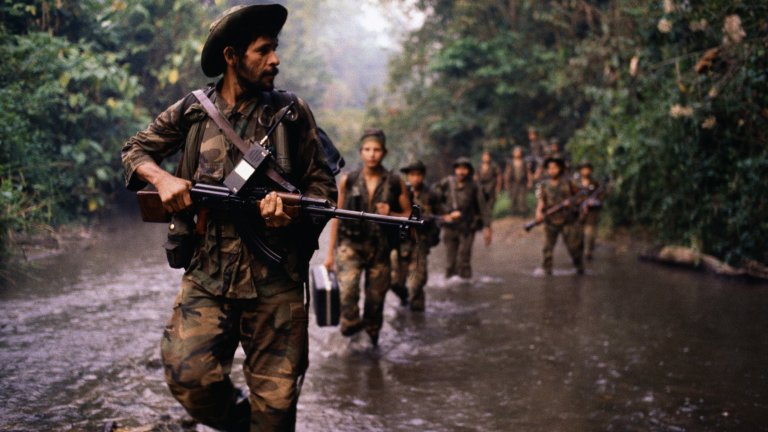 Contras in Nicaragua
In the end, Prado's name did not come to light, but he was recalled from Nicaragua to be sent in the following years on similar missions in Africa and Asia. Some of them remain secret to this day.
During his long career, the spy blew up fuel depots in Nicaragua, captured North Korean diplomats in an attempt to turn them into American spies, and survived at least four assassination attempts.
However, with the fall of the Berlin Wall and the collapse of communism, the nature of America's enemies changed. Prado no longer has to deal with communists, and his new assignment involves a name that will go down in history.
"Most people in the CIA, most people in the United States had never heard of it," the spy said. "I knew from very early on that he was sort of the 'godfather' of terrorism."
It is about Osama bin Laden, and Prado participated in the first CIA team tasked with capturing the leader of Al Qaeda back in 1995. Then the first pictures of bin Laden were taken while he was hiding in Sudan and has been followed traveling in Africa and Asia.
"If we were this close to photograph him, we could just as easily have removed him," Prado said. because every day he prayed in the same mosque and did the same thing."
Much of the story of the past two decades, he says, would have been very different if internal political obstacles within the CIA had not prevented bin Laden from at least being apprehended and interrogated.
In the months after 9/11, Prado formed another team of classified "special forces" around him to take on Al Qaeda and personally presented Vice President Dick Cheney with a detailed plan to combat global terrorism.
However, the idea was rejected and this became the reason for the spy to retire.
He never understood why administrative and bureaucratic obstacles allowed Bin Laden to survive and complete the preparations for the 9/11 attacks.
"Our nation's leadership often fails to meet the challenges," says Pardo.
"When you have pit bulls ready and willing to go after America's enemies, but they're kept on a leash in the yard by obsessed careerists, you can't win a war. It just prolongs it."
.