Entertainment
Some monarchies have already decided: It is no longer proper to be a prince and a princess
I am sure that there are many among the readers who increasingly find themselves saying, overwhelmed by nostalgia and with a dose of resignation to the irreversible passage of time:
"And what kind of football/women's/winter/watermelon world championships were there…" However, I would add:
And monarchies! Oh yes, what monarchies there were in those days – with crowns and sceptres, floor-length dresses and glittering liveries, carriages and audiences, masters of ceremonies and footmen, truffles and creme brulees, polo games and games of thrones, ladies-in-waiting, princes and princesses …
And today what? Kings in shorts ride bicycles, princesses lose weight with bulimia, and princes "peeling" off the Crown because "my wife said so."
It seems that it is no longer fashionable, not to say that it has become downright shameful to be accounted for in one's monarchical registers.
As a result of this trend, I expect that very soon doting women of all generations will stop addressing their own and other people's daughters as "the little princess", which, of course, would be a serious blow to the children's self-esteem and dreams of personal fulfillment. Simply because no little girl wants to be Cinderella, but a princess.
But what happens when not random children with faces smeared with mush and wearing doll dresses made of rayon, but actual heirs to the throne are deprived of the privilege of being called princes and princesses?
The "punished" children and their even more "punished" parents
The date is September 28, 2022.
Queen Margrethe, who is loved to the point of madness by the entire Danish people, announces that, as of January 1, 2023, the children of His Highness Prince Joachim will no longer bear the titles of princes and princesses.
The Queen's decision, the Royal Palace's official statement said, was based on her desire to enable her four grandchildren to build their lives outside the constraints of their titles and the attendant obligations to the monarchical institution.
The grandchildren who are subject to this much harsher-than-a-week-without-a-pill punishment are Nikolay (23), Felix (20), Henrik (13) and Athena (10).
However, as a consolation, their grandmother allows them to keep the titles of Count and Countess of Montpeissa. The reaction? Joachim, who basically plays the disliked, evil and uglier younger brother of the crown prince, Frederick, is furious.
He hates the fact that he was born second, plays it against the nation (that's why he lives abroad) and doesn't understand at all this new rabid pro-liberal craziness that seems to have obsessed his crazy mother too. His wife Marie, who is in fact wife number two and mother only to the two youngest untitled children, also does not accept her mother-in-law's decision, but is not particularly upset because she knows that her children are unlikely to get much share of the king's pie.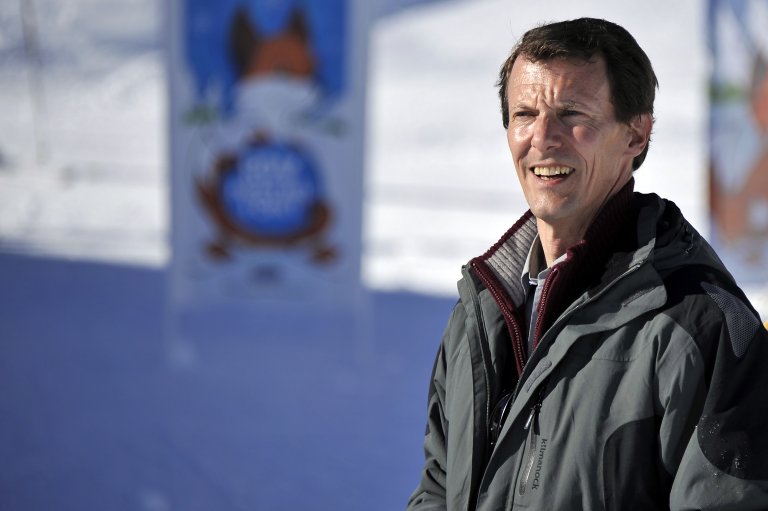 Photo: Getty Images
Prince Joachim
However, the first wife, Alexandra, wasn't having it all, and she showed character (and two rows of sharp teeth) by issuing a statement on behalf of both herself and her ex-husband and his current wife: "We are all baffled by the decision of the queen. We are saddened and in shock. It came as a bolt from the blue. The children feel rejected and cannot understand why their identity is being taken away in this way."
However, the spokeswoman for the Royal Palace denied that there was any element of surprise. According to her, Prince Joachim was informed about the started process as early as May 5 of this year.
Problem number 2
Just like his father, the French nobleman Henri, a.k.a. Henrik of Denmark, who until his death could not come to terms with the unenviable title of prince consort and even refused to be buried in the royal family cemetery, so 53-year-old Joachim he never felt comfortable in the second son's shoes.
And it seems that the role of the eternal number two determines his problematic life path. Because when you are the heir to the throne, things are clear – one day you will succeed your mother or father and be king. But when you're the "other" kid, you have to forge your own destiny.
Trouble began for Joachim in 1995, when the then 25-year-old prince married Alexandra Manley, five years his senior. Since at that time there was still no prospect of his elder brother and heir to the throne, Frederick, acquiring a wife and children, the Palace decided to re-introduce the rule of appanage¹, which had last been used 150 years before.
Thus the newlyweds acquire kingdoms and reigns, as the saying goes, on the one condition… that they do nothing to the detriment of the Crown. So Joachim finds himself in the unenviable role of neither a fish nor a crab – he is both a prince and nothing is asked or expected of him.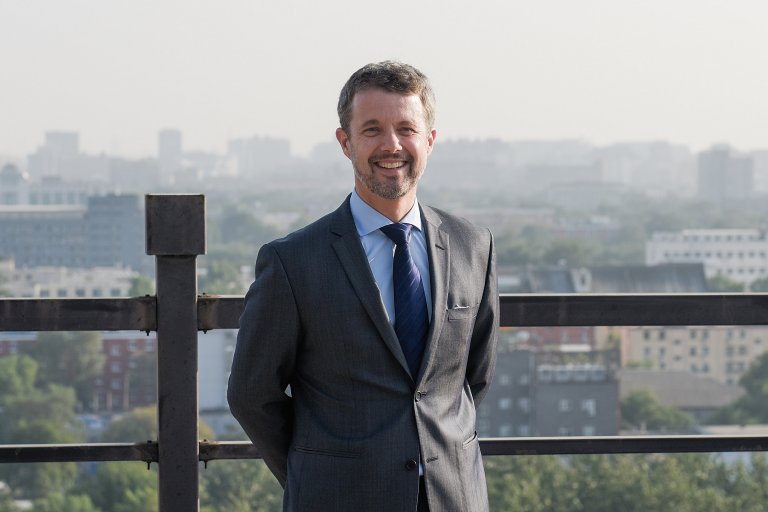 Photo: Getty Images
Prince Frederick
In 2004, the father finally got married and, together with his Australian wife Mary Donaldson, immediately managed to produce an heir to the throne – Prince Christian. While the newlyweds enjoy their baby and young love, the younger brother's marriage falls apart with a bang. After the divorce, Countess Alexandra moved with the children to Amalienborg Castle, and Joachim stayed to live in the castle acquired through the appanage – Schackenborg.
Joachim did not remain a bachelor for long – three years later he married the Parisian Marie Cavalier. Two children were also born from this marriage – Henrik and Athena.
A few quiet years pass, during which they even find Joachim occupied as a palace representative in the Jutland region. And so until Joachim decided to sell Schackenborg – the beautiful 17th-century baroque castle with adjoining lands of 1,031 hectares, which once belonged to the family of Felt-Marshal Schack and which passed into the possession of the royal family in 1978.
The Danish people are shocked by such insolence and put the merchant prince on the list of unpleasant persons.
Where to avoid public hatred, where to turn a new page in his life, Joachim moved with his family to Paris, where he got a job in the Danish embassy. It is rumored that the decision was not actually his, but the Crown's, suggesting that the move to France was actually something of an involuntary exile.
But apparently the problems for Joachim do not stop there. Now his bad luck is being transferred to his children. From January 1, they will no longer be prince and princess.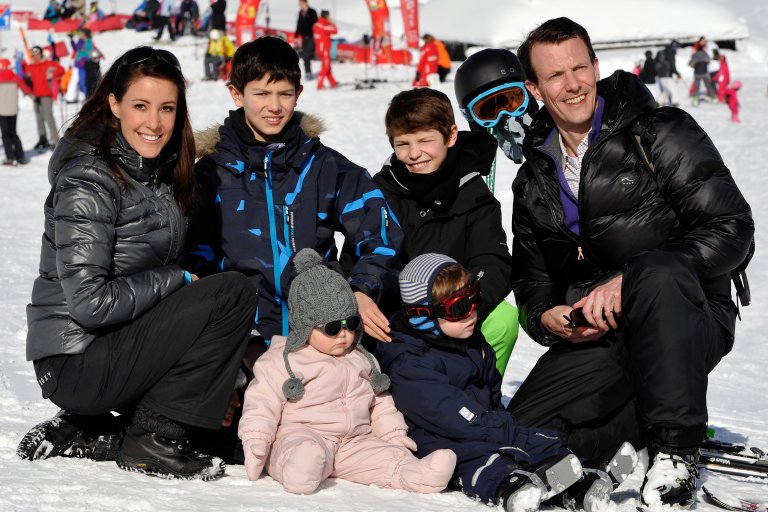 Photo: Getty Images
Prince Joachim with his four children
You gave birth to me, mother, a prince without luck, and you threw me away… in Scandinavia
Joachim and his wives may resent Queen Margrethe's decision and think it was taken on personal grounds, but that is far from the case. Palace experts are categorical: Margrethe acts logically and in harmony with the new times and above all according to the principles of egalitarianism, which are the basis of the welfare state.
In fact, her decision is not at all a precedent in Europe.
In 2019, Sweden's King Gustaf issued a decree that stripped five of his grandchildren of their royal status. With this, the monarch aims to bring the royal family and the prime minister's office closer together and give children more freedom to develop in whatever direction they choose.
In Norway, Princess Merta Louise already in 2002 gave up her right to appanage herself, stating the desire to support herself and be independent.
In Britain in 2020, Prince Harry and Duchess Meghan did the same (albeit more in defiance of the Queen than for any other reason).
Margrethe herself already in 2016 made a request that in the future all her grandchildren, with the exception of Christian (the eldest of the four children of her first-born son), will have to earn their own living – to find their own life and professional field, so that they do not have to resort to appanage, i.e. to rely on their noble origins to live well.
For what he didn't realize, this is Denmark in the 21st century, and no one gets to sit on a lump of gold and dangle their legs for the rest of their lives. After all, he was also a prince or a princess.
___
1. From appanage (fr.) – providing the younger children of the sovereign with land holdings, which counters their claims to the crown, thereby preventing possible attempts at rebellion and aiming to preserve the integrity of the state.
.