Entertainment
Snoop Dogg, who has an IQ of 147 and is feeding America cereal and pancake mix
Rumors about the inhumanly high IQ of rapper Snoop Dogg have never been definitively confirmed or denied.
He himself announced with a post on Instagram that his IQ is 147, which is "extremely high" and such a level speaks of genius. The normal IQ of the vast majority of people is between 85 and 115. A small number have IQs above 130, and Snoop Dogg's score puts him in the extremely elite company of the Ones.
Immediately there were fans who doubted the result, others took it for granted.
Some believe that Snoop hardly took a real, certified test, others recall his extraordinary rapping skills – he breathes fire and is able to rap 10 words per second, each of which is well chosen, without repetitions, without rehearsals, with rhyme and meaning. You need IQ for that.
Still others recall how versatile Snoop Dogg is. He's also dabbled in reggae and country music, has a bunch of appearances in movies, series and TV shows, and a growing business – something that, in addition to the right contracts with the right people, also requires brains.
Plus, Snoop has been with his high school girlfriend to this day, which is also saying a lot. The rapper, whose real name is Calvin Broadus, is married to Shante Broadus, with whom they have three children.
In order to date his high school classmate, Calvin had to ask for her mother's approval. "I had to date her for 4 months before I could kiss her, call her on the phone and write love letters," Snoop recalled to Vlad TV in 2018.
Today, Shante is also her husband's manager and takes care of all his business ventures, including music. "I don't think he could handle all of this without me, to be honest. It's too much," Shante explains.
Yes, next to every great man there's a woman, and Snoop's got more and more work to do. The rapper's empire is growing.
Side business alongside fame is common for the famous, in the world of rap there are even far more successful than Snoop Dogg – before his anti-Semitic rants, Kanye West was a billionaire and had his clothing and shoe business, and Jay-Z makes champagne and cognac and invests in venture capital.
Snoop Dogg, however, has aimed for a far more mainstream niche—he sells breakfast cereal, pancake mix, and gin.
He has published a cookbook and has a show with Martha Stewart. Naturally, the man known for smoking 80 joints a day also has a marijuana product company, including a line of weed snacks.
This year, Snoop Dogg launched his own breakfast cereal called Snoop Loopz, part of his Broadus Foods brand. It's called "Snoop Dogg's Official Breakfast Cereal" and it's a huge box of corn rings in all sorts of colors.
The cereal has a mascot that is, naturally, a dog – a Siberian husky named Captain Ace, who is the "Kobe of Basketball" in Dog Land and hunts spies with his team, which includes a polar bear and a few other hounds.
It may sound ridiculous, but that's how most cereal is marketed, and Snoop doesn't miss another important part – a percentage of the proceeds from Snoop Loopz go to help homeless charities.
Supporting the same cause are other Snoop Dogg-branded foods — once again, classic American no-nonsense snacks like pancake mix, maple syrup, oatmeal, and corn porridge, this time called Momma Snoop.
The brand was founded in memory of Snoop's mother, Beverly Tate, who died a year ago.
This also explains the presence of a quote from the Gospel of John on Momma Snoop's website: "I am the bread of life; he who comes to me will never hunger, and he who believes in me will never thirst."
Snoop Dogg is also known for the many causes he supports. In addition to the homeless, he is also the founder of the Snoop Youth Football League, which encourages children to play football and where he personally coached. He's an animal rights and anti-gun activist, and every Thanksgiving he gives away turkeys to people who can't buy one for themselves.
See, the gin of the man who wrote the hit Jin and juice – Indoggo, goes with strawberry flavor and cocktail recipes and no prayers. The rosé with his name is part of a line by an Australian winery called 19 Crimes.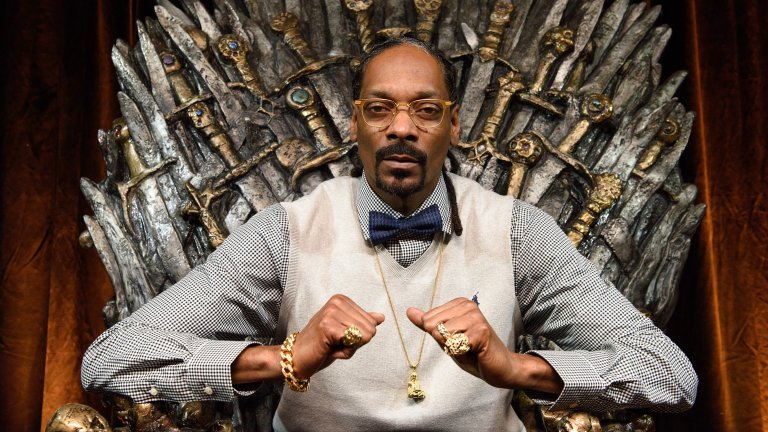 Photo: Getty Images
This is far from all. At the beginning of the year, Billboard reported that the rapper had registered with the US Patent Office the brand Snoop Doggs, which – according to the plans – should sell hotdogs and other types of sausages.
This venture is awaited with particular interest because of the sensation that the performer caused years ago on Jimmy Kimmel's show. Snoop Dogg had to guess from footage of a factory what the food was being made, went through guesses like cereal, cheese and chocolate as the texture of the mixture changed, and when he realized they were hot dogs, announced that he wouldn't eat any more and one.
That is why she is interested in how his products will be produced and what they will be like.
However, Snoop Dogg's interest is not only in cheap, mass-produced foods that America loves.
The hip-hop icon revealed to the Mirror that he had spoken to "my man Gordon about opening a restaurant together", referring to Gordon Ramsay, who is famous for serving hotdogs in his Michelin-starred restaurants.
This isn't all that surprising – Snoop Dogg is known for his friendship with lifestyle icon Martha Stewart, a slightly unexpected combination. The two had a joint show on VH1, and the rapper also released a cookbook featuring Martha Stewart.
Not to be outdone by his fellow rapper businessmen, Snoop also has a clothing store in California, with plans for another that will carry everything from sporting goods, music, movies and whatnot.
The guy is definitely smart, even if he doesn't have an IQ of 147.
.