sport
Show between Arda and Loko Sofia with 4 goals and 3 red cards ended without a winner – BG Football – efbet Liga
The teams of Arda Kardjali and Lokomotiv Sofia ended with a score of 2:2 in a match of the 15th round of the efbet League. Ivan Tilev and Svetoslav Kovachev scored the goals for the hosts, and Ivaylo Naydenov and Dimitar Mitkov scored for the guests from a penalty. Tilev received a red card for Arda in the first half, and Duarte and Slavchev were also sent off in the second half for the visitors.
The first dangerous situation came at the expense of Arda in the 9th minute when Lasana N Diaye was found in the penalty area, but his header went wide of the goal. Shortly after, Svetoslav Kovachev made a nice break and shot at the goal of Lokomotiv Sofia, but his shot went straight into the hands of Lyubenov.
In the 18th minute, Ivan Tilev made a solo breakthrough after controlling the ball and shooting from outside the penalty area with a powerful shot, leaving no chance for Ljubenov. Great goal!
In the 31st minute, the referee awarded a penalty after a foul in the penalty area. Volen Chinkov initially did not rule out a non-punitive strike, but after consideration by the VAR, he changed his decision. Dimitar Mitkov equalized after a correctly awarded penalty, where Alex Petkov committed a foul against Mitkov.
Arda made a great counter-attack and Ivan Tilev sent a pass parallel to the goal line, but Celso Raposo shot at the last second. In the 43rd minute, Lokomotiv Sofia organized a magnificent attack. Antonio Vutov made a great pass to Simeon Slavchev, who found Ivaylo Naydenov in the penalty area, and he delivered a fatal blow from close range, making a complete turnaround in favor of his team.
In the added time of the first part, Ivan Tilev committed a senseless foul and although he received a yellow card a minute before, the referee did not hesitate to show him a second one and a red card respectively. Arda was left with one less person.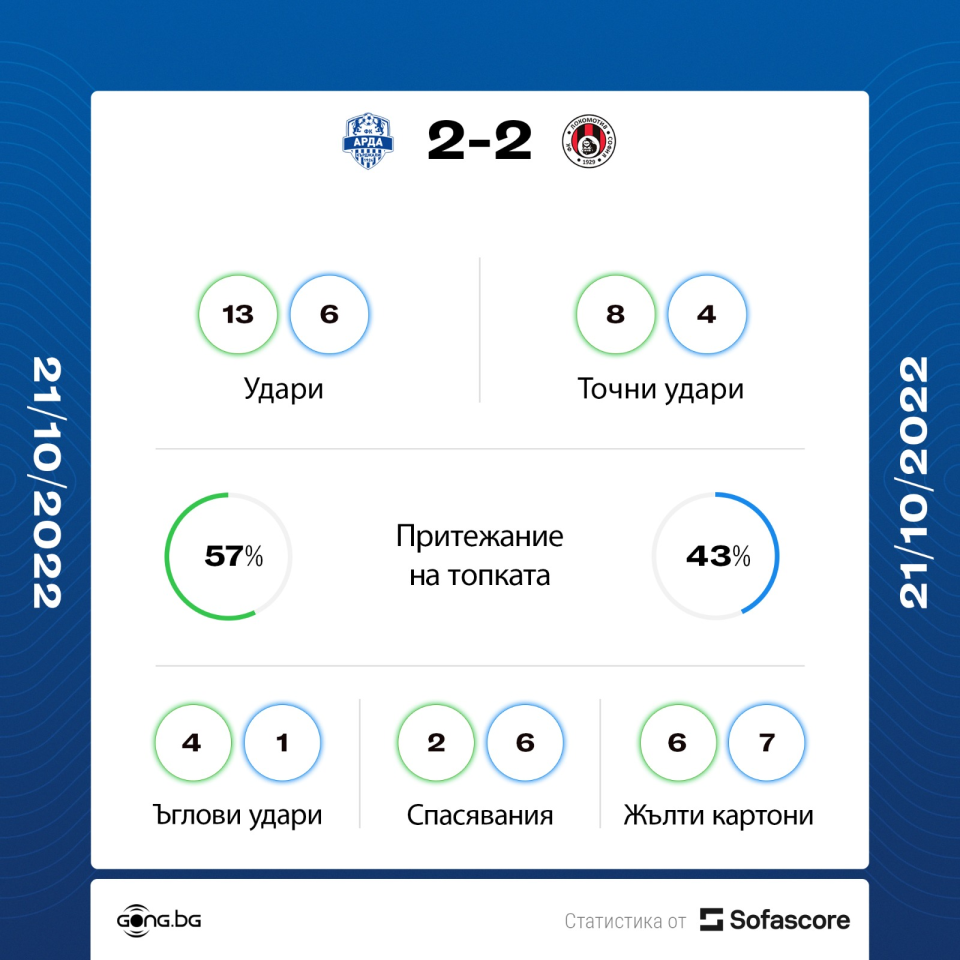 Arda lost the ball in midfield in the 58th minute and Lokomotiv Sofia launched a lightning counterattack, but Carlos France's shot was blocked. Svetoslav Kovachev took a superb free-kick from the edge of the penalty area in the 81st minute and managed to level the scores, sending the ball into the right corner of a helpless Alexander Lyubenov.
Seconds later Mateus Duarte helped himself with a hand in a tackle, and he already had a yellow card and the referee did not hesitate to show him a second one.
In the 88th minute, Lokomotiv Sofia received another blow. Simeon Slavchev was shown a second yellow card and red respectively, and Lokomotiv Sofia remained with 9 men.
In the 93rd minute Lachezar Kotev controlled the ball in the penalty area, but his shot went straight into the hands of Ljubenov.
With this tie, Arda remain in 9th position with an asset of 23 points, while Lokomotiv Sofia are already 5th with 25 points.
Arda: 1. Anatoly Gospodinov, 3. Umar Sako, 8. Milen Zhelev, 10. Svetoslav Kovachev, 11. Alexander Georgiev, 17. Ivan Kokonov, 18. Lasana N`diaye, 20. Deyan Lozev, 24. Alex Petkov, 33. Ivan Tilev, 80. Lachezar Kotev
Coach: Alexander Tunchev
Lokomotiv Sofia: 24. Alexander Lyubenov, 33. Alan Dias, 22. Ivaylo Naydenov, 89. Mateus Duarte, 13. Celso Raposo, 26. Krasimir Miloshev, 8. Simeon Slavchev, 44. Bozhidar Katsarov, 39. Antonio Vutov, 45. Dimitar Mitkov, 11. Carlos France
Coach: Stanislav Genchev