Entertainment
"She's just surrounded by fucking psychopathic men" – Olivia Cooke on Queen Alicent and The Dragon's Home
Few were more pleased with the end of the first season of "House of the Dragon" (House of the Dragon) than Olivia Cooke, who played the older version of Queen Alicent, the daughter of the Hand of the King Sir Otto Hightower.
For the young actress, the 10 episodes have meant 10 weeks of anxiety and tension about how people will perceive her character and even more – how they will accept the change of the actress who plays her.
Cook stepped into the shoes of the grown-up Alicent in the sixth episode, after Emily Carey previously played the younger version of the character. This change was indeed a cause for concern as no one could predict how viewers would react.
The time jump confuses many, and it bothers Cook quite a bit.
"I have to say, I've never experienced anything like this before – 10 weeks of anxiety is just not fun… The time jump and the mid-season appearance of me and Emma (D'Arcy) as Alicent and Rhaenyra in five weeks , where the audience has grown to bond with Emily Carey and Millie Alcock. That was really hard because you just don't know where things are going to go," Olivia shared in an interview with Variety.
According to her, it's really hard to separate yourself from the rest of the world's reactions to something you've worked on for over 10 months and means so much to you, but also to those watching it.
It's been a long road for the actress who, ever since she auditioned for the role of Alicent herself, wasn't sure if she even wanted to take part in the project.
While she's had starring roles in big movies like Player One, Get Ready and The Sound of Metal, the Westeros series is her biggest role yet, and with it comes the increased attention. At the time, at the very beginning of the pandemic in 2020, Cook had just returned to the UK from New York, where she had lived for a long time.
The young British woman from the age of 18 has been involved in a number of productions, which forces her to travel a lot and live far from her family and loved ones.
In her interview with the Guardian, she says that she has always been prone to melancholy. When she's isolated and away from home in those young years, with the stakes high for the career she's always dreamed of, it becomes "one big, wonderful cocktail" of factors for depression.
So in 2016, when she was 22 years old, Olivia suffered a "complete mental breakdown" in her own words.
"It was bad, bad. Terrible, actually," she said. She explains that she never stopped working though, she just got very good at hiding her true emotions.
Thus, the pandemic for her comes as a "tonic for the soul" – an opportunity to return to her homeland, settle in London and return to her old friends. And then the opportunity for "The Dragon's Home" comes up.
So Cook, although she has not seen the original series "Game of Thrones" (Game of Thrones), jumps into the race for the role of Alicent Hightower without thinking.
He even convinces the casting team that he's actually a huge fan.
Did you like the first season of Dragon House?
It wasn't until she was able to see two scripts for the show and understand the depth of the character she was vying for that she was convinced the project was right for her.
Many have compared her character to Queen Cersei from Game of Thrones, which Olivia says flatters her, as she finds Lena Headey's performance brilliant and incredible.
In his audition, he actually used Cersei's dialogue because he didn't have a script for "House of the Dragon" at the time. Subsequently, the character became her favorite when she finally managed to watch the original series in preparation for her own role.
However, he is of the opinion that there is not much in common between the two queens – Alicent and Cersei.
"The two will always be compared… What Lena Headey did with Cersei was so brilliant. She was one of my favorite characters because even though she's so reviled, she's driven by an abiding love for her children. In that sense, and both of them will do anything for their children. But I think Alicent is subject to anxiety and self-doubt a lot more, whereas I don't think Cersei has that problem at all. She totally believes in every punch she takes," commented Cook.
To avoid reinforcing these parallels between the two heroines, she has greatly reduced the glasses of wine her Alicent drinks in The Dragon's House.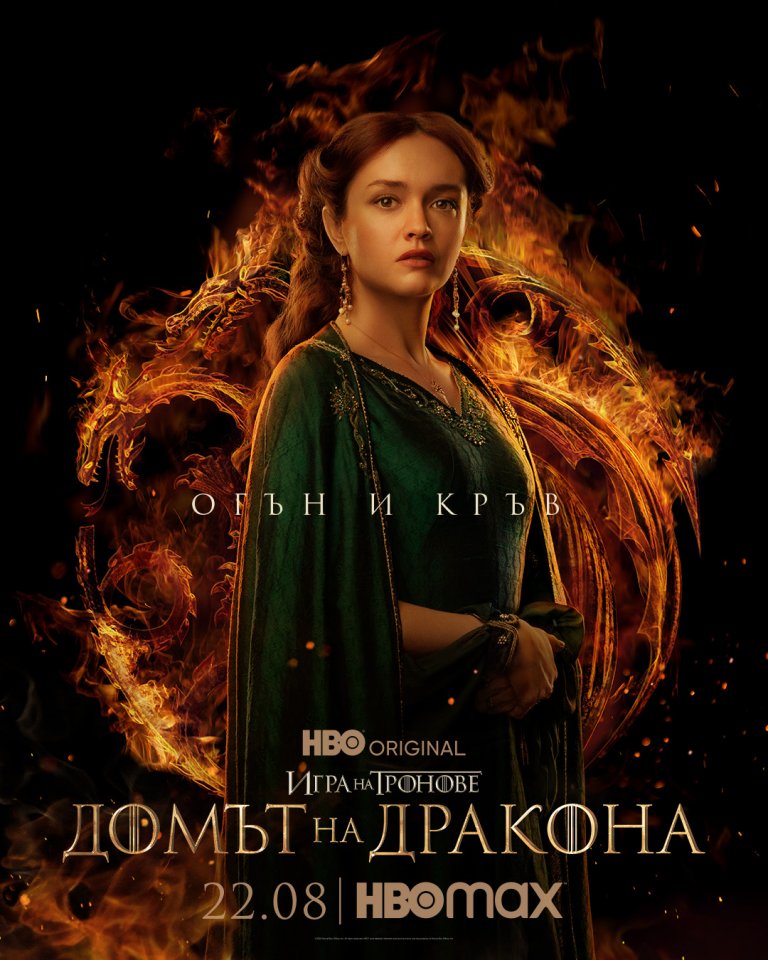 Photo: HBO Max
In the eyes of Olivia Cooke, Queen Alicent is a multi-layered and contradictory character – a confused and lonely woman surrounded by aggressive, dangerous and manipulative men, trying to survive in the royal court, but still do the right thing.
Although at one point Alicent reckons that her childhood friend Princess Rhaenyra would make a good queen, the heroine is worried about her own safety and pushed on by those around her, she sets out to launch her son as the next king of Westeros.
"I played Alicent as a woman who wants someone other than her son to sit on the Iron Throne. She doesn't think Aegon is fit at all. She loves him, but at the same time she's disgusted by him as a person and she doesn't think at all that he has the essential qualities to be king. She probably thinks Emond is more suitable, but then again, he's a psychopath. And Helena lives in her own world, so I don't know if Alicent even thinks any of her children should be on the Iron Throne," explains Cook when it comes to her character's motivations.
And doing the right thing for her proves to be hellishly difficult as the doubt-torn queen is surrounded by domineering and aggressive men.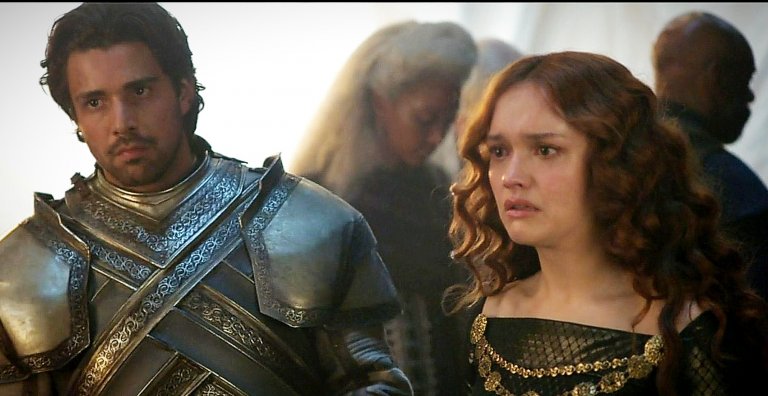 Photo: HBO Max
"She's just surrounded by these fucking psychopathic men. It's claustrophobic and terrifying trying to live in this intense paranoia and fear for your life all the time. That's what drives her to make these decisions," the actress explains. .
On the strange relationship between the Queen and the member of the royal guard, Sir Kristen Cole commented that it is possible that the relationship between the two is based on mutual need, but also full of toxicity. He predicts that they may grow into something more.
"It's a weird dynamic, the relationship between Alicent and Kristen Cole, and I think there are smoldering undertones of something. He shines a light on her, he's masculine, and he's the only guy like that she's ever had in her life. She's probably very confused where their relationship stands. I think there's a strange thing that's blossoming with them that you see in episode nine. I think it's an assessment of his duty and his loyalty, but it's also a fear of him," Cook commented.
Her heroine has a strange, almost sexual relationship with another of the characters – Lord Larris Strong (Matthew Needham). And the scene between them in the ninth episode was perceived as one of the most scandalous in a series full of incest, insidious murders and brutal violence.
In the scene in question, the young queen enters into a strange information deal with the head of the royal spies, in exchange for showing him her bare legs while he masturbates in front of her.
Cook herself told Variety she was surprised that this particular moment in the episode stood out and was reported as something so scandalous.
"It was freaky because the episode has beheadings, people getting their penises cut off, graphic violence and brothel scenes, but to put my legs on display while he masturbates was the most shocking. It's funny, isn't it? ?", commented the actress.
According to her, she wanted to know that there was a serious reason for the scene in order to film it, as she was aware that her feet would then inevitably end up on various fetish sites.
Photo: HBO Max
Olivia also explains her character's motivation for taking part in this strange deal with Lord Strong – he just has the information she needs to protect herself and her children.
Therefore, she resorts to the method that will surely provide her with this information.
"It's disgusting, it's humiliating, it's an abuse of her. But she really has no choice. She's surrounded herself with psychopaths and murderers. She has no one else to turn to. Maybe she thought she could turn to her maid Talia, but she turns out to be a spy," commented Cook.
"It's funny how you can't predict which scenes people will have the biggest reactions to, and unfortunately this one was," she added.
This particular scene was an idea from executive producer Sarah Hess, who wanted to reveal more about Lord Larris, who is yet to have a bigger role in Dragon House
The episode's director, Claire Kilner, called the foot scene "really dirty", but not so much because of the foot fetish Larris has, but because of the way he trades information, looks at the queen, and then satisfies himself.
"What he does is so haunting and raw," comments Kilner, while explaining that that was the idea – to bring out the dark nature of the character.
According to Hess herself, there may yet be other moments of sexual violence in the show. According to her, the series will not "run away" from such material if necessary.
As for Olivia Cooke and her character, in the second season and until the end of "Home of the Dragon" we have yet to see how this character unfolds her arc.
.