sport
Scores on and off the court: The life of the playboy Grigor Dimitrov
Grigor Dimitrov is in a creative hole on the court, but this does not change the fact that his name will remain forever in the history of tennis. A former No. 3 with eight ATP titles and three Grand Slam semifinals, the Bulgarian ace has a lot to be proud of.
But apart from sports, Dimitrov has other personal victories – those among women. Some of his ex-girlfriends include Russian Maria Sharapova and Pussycat Dolls lead singer Nicole Scherzinger, and rumors even linked him to Serena Williams.
We turn back time to recall the romances of playboy Grigor Dimitrov.
"Thank God he's not from my generation"
The Bulgarian tennis player moved to Paris at 16 to continue developing professionally, and a year later began an affair with Slovakian tennis player Romana Tabak. Their relationship did not last long and they broke up.
In the period 2009-2012, Dimitrov already has a new passion – he meets the "mysterious", according to the yellow media in our country, Simona Stefanova. She is believed to be his first great love, but the teenage relationship also falls apart.
There was a slight lull before the real storm and in 2013 his flirtation with Russian superstar Maria Sharapova began. At first, the couple communicates by text messages and emails, and Dimitrov takes the first serious step towards their meeting.
"We were both in China – I was in Shanghai, she was in Beijing. I was having lunch when I saw her match on TV. I immediately sent her an email. That's how we started communicating, and a month later, when the season was over, we met." , Dimitrov tells about the beginning of his relationship with Sharapova.
"I remember looking at the boy walking down the lane at Wimbledon. He was tall, thin and had the smile on his face of a man who knew how good he was. 'Thank God he's not from my generation,' I told my coach at the time . Otherwise, it would be dangerous. Dangerously distracting," writes Masha in her book Unstoppable about her first impressions of Grigor.
Here is the time to insert the rumor of a relationship with Sharapova's great rival over the years – Serena Williams.
Grigor never admitted publicly, the American opened up in an interview with Rolling Stone magazine: "If she wants to date a boy with a black heart, act," warned Williams. However, Sharapova seemed more than happy in this relationship and the "black" Bulgarian heart did not bother her. Over the years, not a single serious attack against the Bulgarian was heard from her.
At first, the two hid, but gradually their inhibitions fell and they became one of the most talked about star couples worldwide. Grigor gave it away like a romantic: "Sometimes I give her surprises or just send her flowers for no reason. My record is a bouquet of 500 roses," Dimitrov told The Telegraph at the time.
Rumors that Maria was pregnant periodically appeared in the media, and "news" about the engagement and wedding appeared every week. However, the tennis stars split in 2015.
"At that moment, the emotional tension that I had been struggling with all this time fell from my shoulders. I knew that this was not my place. I had to be focused, to prepare for my own matches, for my own triumphs and downfalls – the big stage. And then it happened that I watched his matches only because I was eliminated early. Therefore, his pleasant memories were my nightmare," Sharapova also wrote in her book about the breakup with Dimitrov.
However, the tennis players remained on good terms. And according to Maria, Grigor even seriously supported her during the disqualification for doping.
"I understand the girls who are bewitched by Grigor"
In November 2015, it became known about Dimitrov's romance with the American singer and soloist of the popular band Pussycat Dolls Nicole Scherzinger. Before Grigor, she dated Formula 1 driver Lewis Hamilton, with whom they were together for seven years. But although there was talk of marriage between them, Nicole broke up with the Briton.
Grigor, for his part, was still reeling from the end of his relationship with Maria Sharapova, but a crush on Scherzinger helped him out of the hole. Both love lovers have quite busy schedules and hardly find enough time for each other.
"Yes, it's not easy. We both have very busy schedules, but Nicole does it better than me. She comes to most of the places where I am, not the other way around," says Grigor about their relationship.
Scherzinger really tried to be with her new boyfriend at every convenient opportunity, and the age difference of 13 years did not bother either her or Dimitrov.
"I have been dating Grigor for a year now and it seems to me that this is a true and unadulterated love. By nature I am very loving and I feel very comfortable with him. I can immediately say that not all men can give me this feeling. Now I understand the girls who are enchanted by Grigor. He is an amazing, wonderful, romantic and very sensual man. I hope that our relationship will last for a long time and come to its logical end," Scherzinger told InTheStyleUK in 2016.
But the media often reported on the separation of the stars, and the "logical end" came in 2019. Scherzinger announced it quite spectacularly. During the Australia's Got Talent show, she encouraged one of the contestants by saying: "Come on, come on! I'm free now!"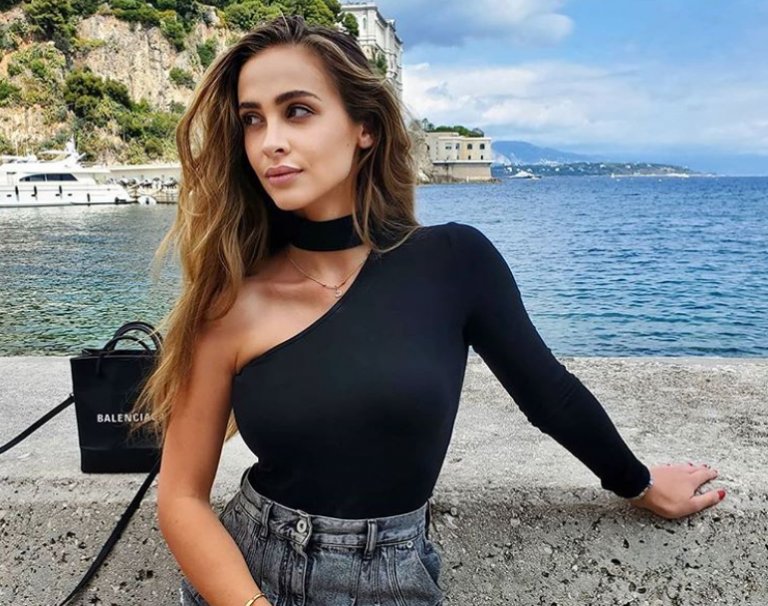 I experienced the worst shock of my life
Another Russian woman was bewitched by the Bulgarian playboy – Victoria Bonya. However, their romance was not that memorable. According to the model, the tennis player cheated on her and she broke up with him. But she also has no ill feelings towards the "devilishly attractive" compatriot, in her words. Their age difference was similar to that of Scherzinger, and Victoria wanted a child from Dimitrov, but it did not come to that.
"I thought he was perfect. He was the person I always wanted to hug. There was something magnetically attractive about him. He was always smiling. I wanted to believe that that smile was genuine and genuine. I began to cultivate in him those qualities that he didn't have one. At one time I told him that I wanted a family and children. And he replied that he was ready for it," said Bonya in an interview with the Premier platform.
However, the dreams of the Russian TV presenter remained unfulfilled. Moreover, the Bulgarian cheated on her with the daughter of the Russian oligarch Eldar Osmanov – Lolita.
"Then I experienced the most terrible shock of my life. Betrayal – with capital letters. But I said to myself: if these two have found happiness because I have experienced unhappiness, then God give them all the best for ages. But I went through several terrible years of his life," Bonya concludes his confession.
Grigor and Lolita are still together today. Osmanova already has a marriage behind her – with businessman Gaspar Avdolyan, but she claims that she has never been as happy as she is today.
Lolita lives in Monaco, and Dimitrov is also a resident of the Principality. And as you might guess – again, wedding and engagement "news" often appear.
.