world
"Sake Viva!" – in Japan they have a problem with alcohol – young people don't want to drink
Japan has a big problem – its population wants to drink alcohol less and less. Even worse, the trend is most noticeable among young people.
Why should this be a problem? However, it is common for governments to do the opposite – to get people to drink less.
Because the lower the consumption of alcohol, the less money enters the state budget from taxes and excise duties.
For Japan in particular, this means that over 40 years, revenues from excise taxes on alcohol have fallen dramatically. In 1980, they were 5 percent of all tax revenues, and in 2020 they are only 1.7 percent. In 2020 alone, the nominal decrease compared to the previous year was 110 billion yen – 800 million euros – the biggest drop in the last 30 years.
The country's residents now drink an average of 75 liters of alcohol per year, down from 100 liters in 1995. In terms of type of alcohol, the biggest drop is beer – by 20 percent in 2021.
And this, with a budget that is in deficit anyway – 340 billion euros, is an even bigger problem. Especially in a country with an aging population – World Bank figures cited by the BBC show that nearly a third of people in Japan are over 65 – the highest ratio in the world.
Data from studies from a few years ago, cited by The Japan Times, also show a clear trend – the youngest drink the least. According to a study by the Japanese Ministry of Health among men of different age groups, those between 50 and 59 drink the most – 46 percent of them regularly consume alcohol.
The percentage drops with age, with only 11 percent of men drinking regularly in the 20-29 age group.
There are several explanations for the declining interest in alcohol. One, of course, is the pandemic – people stay at home and don't go to restaurants. The other is the structure of the population – older people don't drink as much.
However, there is another, economic reason. Socializing with colleagues and superiors after work with the help of alcohol is a tradition in Japan.
"The biggest factor behind the decline in drinking is that there are more people who are not regular staff and are paid less," said Waseda University professor Kenji Hashimoto, quoted by The Japan Times. For these people, these are expenses they may simply not have to incur.
Data from the labor market in the Land of the Rising Sun from 2015 indicate that the so-called "low class" – temporarily employed or part-time, is almost 30 percent. In addition to smaller salaries, they have less opportunity to maintain personal relationships with their managers or superiors, i.e. the practice of socializing through drink and communication.
These Japanese go home after work instead of going out with their colleagues, which usually means they drink less.
"For a long time after the war, the Japanese accepted their country as a nation of 100 million middle-class people. This gave birth to a culture of drinking, especially among men," says Hashimoto. However, things are changing now.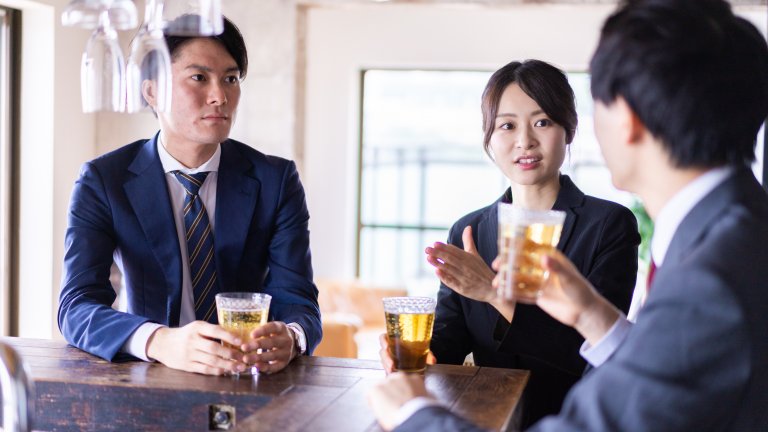 Photo: iStock
In addition, social media is likely to replace face-to-face contact to some extent among younger people, which also leads to fewer visits to bars and restaurants.
And now, working from home may further deepen the trend, and more and more Japanese people do not find it meaningful to drink with their colleagues to improve communication with them.
The new normal is not being taken lightly by the authorities and they have even recently launched a campaign to encourage young people to drink more and bring back the popularity of alcohol.
The National Revenue Agency has launched a national competition for ideas on how to drink more. It's called "Sake Viva!" and calls on people aged 20 to 39 to share business plans to promote demand for local alcohol – sake, whisky, beer or wine.
Participants must provide examples of successful promotions, branding and even sales methods through the metaverse. They may offer new products or designs, as well as emphasize the focus on alcohol consumption at home.
The application deadline for the contest is until the end of September, and people from other countries can participate as well, as long as they promote Japanese drinks.
The best proposals will be developed with the help of experts and presented in November at a special celebration. The winner will also receive a shoulder from the tax authorities to turn their ideas into a business.
And you, could you convince a Japanese person to drink more?
.