sport
Pity! Bulgaria fights but loses to Belgium and exits EuroBasket 2022 – Basketball – EuroBasket
The national basketball team ended its participation in EuroBasket 2022. The Lions lost 80:89 to Belgium in a decisive match of Group A to continue in the elimination phase of the tournament. The meeting was held in Tbilisi.
Rosen Barchowski's alumni were catching up for almost the entire match. Ours had a deficit of 11 points at halftime, and in the third quarter they managed to go ahead in the score by a point, but then Belgium regained their lead and managed to keep it until the end of the match.
Alexander Vezenkov played another great game and finished with a double-double of 26 points and 13 rebounds. Dee Bost, for whom this was the last game for Bulgaria, finished with 18 points. Dimitar Dimitrov and Chavdar Kostov finished with 11 points each, and Pavlin Ivanov remained with 8 points.
For Belgium, Retin Obassouane scored 25 points and Emmanuel Lecomte had 20 points. Maxime de Zeeuw remained with 13 points.
Bulgaria ends its participation at EuroBasket 2022 with one win and four losses, while Belgium has a balance of three wins and two defeats and continues to the next phase in Berlin.
---
FIRST QUARTER
Emmanuel Lecomte scored the first basket in the match, but immediately after that Alexander Vezenkov responded with a triple for 3:2. Another accurate shot from the three-point zone by Chavdar Kostov gave the "lions" an 8:6 lead. The Bulgarians made three good defenses, and Emil Stoilov missed an excellent opportunity under the basket. Quick attack and dunk by Hans Vanvein for 10:8. Both teams made several misses, and Retin Obasoane converted from the three. Another mistake by ours followed, but Mwema failed to serve.
Bost stopped the bad streak of the Bulgarians with a triple. Bako took advantage of a mistake by Ivan Alipiev and put Belgium ahead with 15:13. Vezenkov with an accurate shot from the zone for three points returned the advance to the Bulgarians – 16:15. Two successful free kicks by Vezenkov followed, and Pavlin Ivanov fouled Obasoan, who converted his shot, but missed from the penalty line. 3.6 seconds before the end of the first period, Ivan Alipiev earned two fouls, but scored only one of them. Obasoan responded with a three-pointer at the buzzer for 19:20 after 10 minutes of play.
SECOND THURSDAY
The second period started with a triple by Maxime de Zeeuw. With 3 seconds left in the attack, Bost found Vezenkov, who decided to play for a foul from the three-point zone, and in addition to the foul, he also made his shot, and then from the penalty line. Chavdar Kostov failed to score after a great pass by Ivan Alipiev. Belgium went ahead again after De Zeeuw's second three-pointer in a row, and then Lecomte scored for 23:28. The "Lions" continued to experience difficulties in attack, but Vezenkov again took matters into his own hands and converted after a breakthrough for 25:30.
The Bulgarians failed to take advantage of their good defense and Ivanov missed from an open shot. After that, Vezenkov also tried a supplement, but it didn't work. The ball remained in possession of the Bulgarians, but again Vezenkov failed to score under the basket. Kostov's three-pointer reduced the deficit of the Bulgarians to 28:32 3:20 before halftime. Belgium converted twice from mid-range, forcing Rosen Barchowski to take a timeout at 28:36. The lead of our opponent becomes double digits after another shot from a medium distance by Lecomte. A miss by Dimitar Dimitrov followed, and Obasoan punished us with a three-pointer – 28:41. Half-time came after another pass from mid-range by Vezenkov.
THIRD QUARTER
The third period began with an excellent individual breakthrough by Dimitar Dimitrov and an accurate shot into the basket of the Belgians. Excellent defense and accurate shooting from the three-point zone by Dimitrov followed. Pavlin Ivanov also "woke up" and reduced our deficit to 5 points – 38:43. Obasoan started the second half strongly and made a second successful shot, but Ivanov responded with two more points. Dimitrov's easy two points under the basket caused the Belgium coach to take a timeout at 42:45. Ivanov's strong performances also continued and the guard made a three-pointer to tie the score.
Vezenkov scored after a struggle in attack, but De Zeeuw found himself alone on the triple and made no mistake – 47:50. The referees, on the other hand, reviewed Ivanov's shooting from the three-point zone, as there were doubts that the guard had crossed the line, but in the end the three stood. Almost three and a half minutes before the end of the third part, Tumba received an unsportsmanlike foul, and Vezenkov converted both penalty kicks. The ball remained in our possession, and Dee Bost reminded himself with a basket and a foul for 52:52. The Lions went ahead in the score for the first time since the beginning of the game after a three-pointer by Bost, but Mvema returned the three points for 55:57. Lekomt scored after a breakthrough, and Andrey Ivanov fouled him. Bost committed an offensive tackle, then reacted violently to the referees' decision and received a technical foul.
Vezenkov failed to take advantage of a wonderful pass by Karamfilov after a mistake by Belgium. Andrey Ivanov caught the fight, but he also failed to register. Gilles was left alone on the three, but missed. Vezenkov broke through Lecomte, who fouled him to stop him from an easy two points. The Olympiakos star stepped to the penalty line to score twice, completing a double-double of 20 points and 10 rebounds. Alipiev made a triple, but Obasoan scored two points after a break. Vezenkov missed from long range with 4.5 seconds left, and Tabu missed at the buzzer.
FOURTH QUARTER
The last part started badly for the Bulgarians. Tumba converted one of two penalty kicks and then drove powerfully into our basket. With a chance, Bost scored a triple, but De Zeeuve returned the three points – 63:72. A dunk by Andrey Ivanov after an excellent pass by Vezenkov and two points after a break by Bost prompted Dario Gergia to call a timeout. With 6:22 left, Tabou committed an unsportsmanlike foul on Vezenkov, and the Olympiakos star scored twice from the penalty line. The ball stayed in our possession with Bost firing wide behind the bar, but the Belgians were fouled in the tackle. There followed misses from the three-point zone by Vezenkov and Lieber, and the best Bulgarian basketball player scored under the basket for 71:75.
A great long-range shot by Tabu brought Belgium's lead back to seven – 71:79. Bulgaria returned two points after a struggle in attack and a basket by Dimitrov. Vezenkov scored twice from the penalty line for 75:79. A basket by De Zeeuw and then a missed 3-pointer by Ivanov left Belgium up by six points with 1:44 left. Ivanov missed a clean shot from the three. With one minute and three seconds remaining, Vezenkov received a technical foul after calling for a wrestling foul under the basket after being pushed by an opponent. Tabu converted from the penalty line, and then Obasoan did the same twice. Kostov converted from the three, and then Tabu scored once from the penalty line with 24 seconds left. Two accurate penalties by Obasoan and a pass by Vezenkov made the final score 80:89.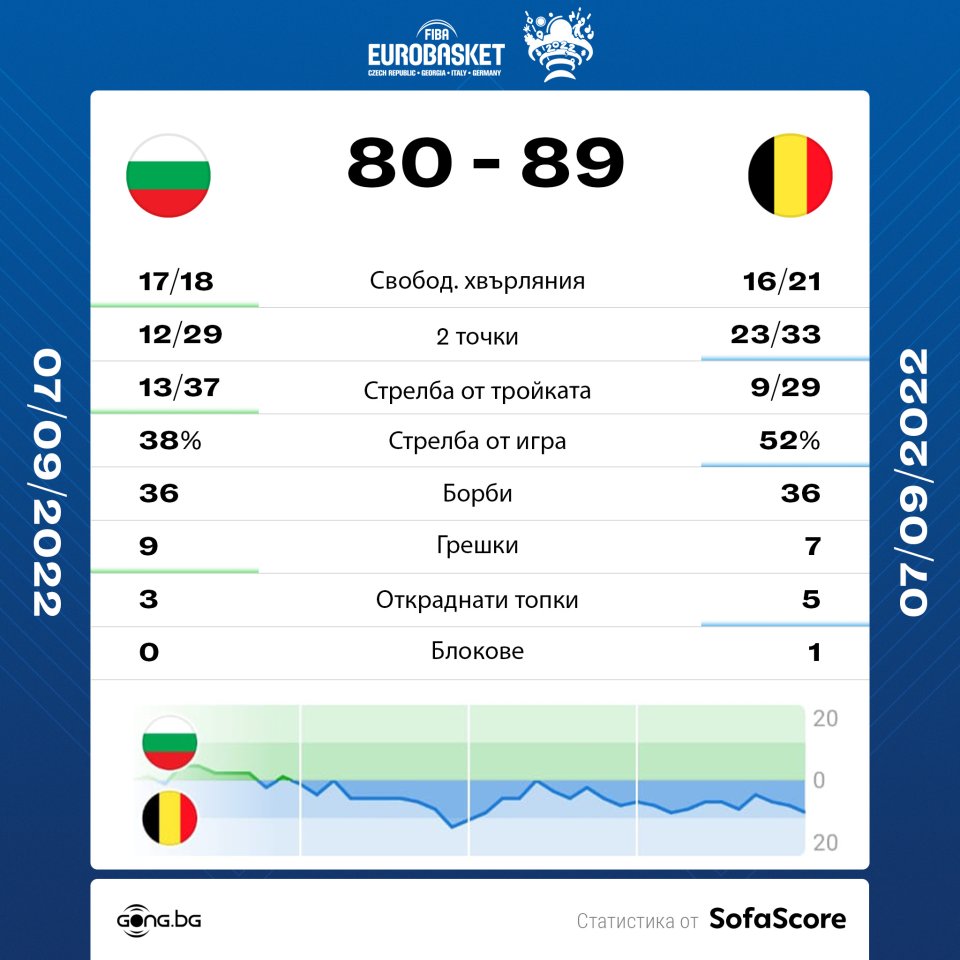 ---
Bulgaria – Belgium
Bulgaria: Dee Bost, Chavdar Kostov, Alexander Yanev, Alexander Vezenkov, Emil Stoilov
Coach: Rosen Barchovski
Belgium: Ismael Baco, Pierre-Antoine Gilles, Emmanuel Lecomte, Jean-Marc Mwema, Retin Obasoane
Coach: Dario Gergia