sport
Messi through the eyes of his teammates: Everyone knows he is better than Ronaldo. Leo is a born magician and is not selfish
Argentina loves Messi and Messi loves Argentina. And this was proven in the month of the 2022 World Cup.
In just those 30-odd days, the Gauchos superstar has been showered with praise from his teammates, many of them coming well before the final and the coveted trophy.
For the Argentinians, there is no dispute as to who is the greatest football player, and on several occasions during the World Cup, they declared it loudly and emphatically.
"In my opinion, he has become even stronger during this tournament – both physically and purely football – says of his captain Emiliano Martinez, who saved several penalties, including one in the final, on Argentina's way to the world title. –
Everyone knows that Messi is a better footballer than Ronaldo. Leo is a born magician. He's a super cool guy and not selfish at all.
From left to right: Enzo Martinez with the Best Young Player Award in Qatar, Ballon d'Or Lionel Messi and Golden Gloves Emmy Martinez
He represents Argentina as a true hero. People respect Messi more than the president. He is No. 1, very hardworking and a huge inspiration to everyone."
Martinez revealed that Messi is ruthless even in training: "He does everything with ease, which is the most difficult. His shots are uncompromising. He stops the ball, looks at you and sends the ball into the corner. He has a remarkable left-hander."
At the start of the tournament, Leo hinted that he could play his last matches in the national shirt in Qatar. "I hope this will not be Messi's last World Cup – said defender Christian Romero. – We are constantly talking about this and we will all ask him not to give up on the national team. We are proud to be his teammates."
But, luckily for all his fans, after winning the world cup, Argentina's leader announced that he wanted to play some more and enjoy his world champion status.
Left-back Nicolas Tagliafico also expressed his amazement at the qualities of his captain: "Messi is our leader who inspires us and always wants more from us. He is special. Knowing we have Messi gives us extra confidence. We all have one and same dream and I sincerely hope Argentina win the World Cup because Messi will be with us.
Then we will be able to tell our grandchildren that we had the honor of playing with the greatest football player in history."
Some admire Messi so much that they are afraid to speak to him. "Playing with Messi is a dream for me. To be honest, I hardly talk to him on the pitch – I'm very shy and I don't want to disturb him. When everything is about to fail, Leo pops out of nowhere and casts his magic on us ", says midfielder Alexis McAllister, who is among the discoveries in Qatar.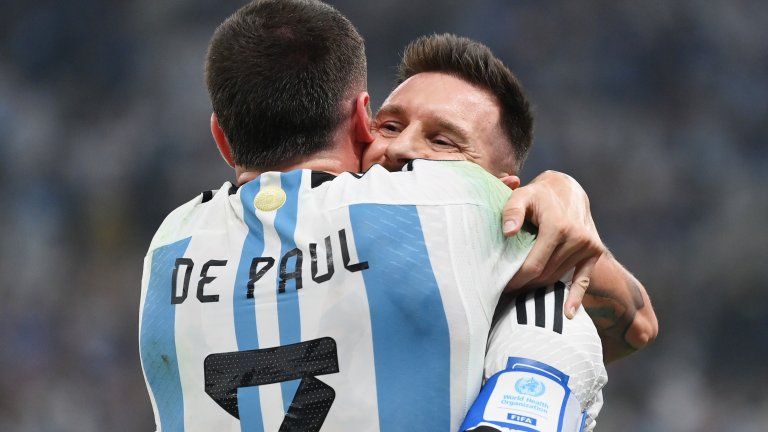 Photo: Getty Images
Rodrigo de Paul, who is ironically called Messi's bodyguard, also does not spare superlatives for Leo: "I love him. He is 35 years old and still the best. He is also great as a person. He is the best , but also one of us when we're having fun."
Manchester United defender Lisandro Martinez added: "It gives me chills when I watch what he does on the pitch. As his team-mate, you can't help but give your all for him."
"He's the best in the world. An alien, I'll never stop repeating it – shared the other hero in the final against France – Angel Di Maria. – I'll say it again – playing with Leo is the most wonderful thing I've ever had ever happened in my career. To share a pitch with him is a dream come true."
Coach Lionel Scaloni's words are also not much different from those of the others: "For me, Messi is the best. I have no doubts about that."
.