Entertainment
Matthew Perry's Memoirs: Falls into a Coma Due to Alcoholism and Had Only a 2% Chance of Survival
There are situations in which no series fan wants to imagine his favorite characters.
Who would want to imagine them strapped to life support systems, with tubes in their mouths and gadgets to help them perform their daily physiological needs? Especially when he remembers them for something else – their sense of humor, their energetic nature, their eternal youth.
We would like to believe that these darlings do not age, that they are immune from problems along with the actor who brings their image to life. But Matthew Perry, or Chandler Bing to Friends fans, is ready to shatter that fantasy.
In his first memoir, Friends, Lovers and The Big Terrible Thing, he reveals the sea of ​​trials he goes through while playing the funniest character on screen. Abuse of alcohol, opioids and numerous surgeries, the most serious of which was done 4 years ago.
The actor was then admitted with a perforated stomach and ruptured colon following his decade-long addiction to alcohol and Oxycodine. In front of his relatives, the doctors are unanimous – Perry is in a very serious condition, he fell into a coma, and the chance of survival is only 2%.
But he survived and is now ready to talk openly about the two weeks in a coma, the five months in a hospital bed and the nine months he used a colostomy bag for his physical needs.
"I remember being put on something called an ECMO machine, which keeps the heart and lungs working. That night four other people were put on the same machine. The other four died and I survived. Then I started to wonder why. Why am I alive?" Perry admits to People magazine days before Friends, Lovers and The Big Terrible Thing hits the US market.
The chain of problems that lead him there began when the actor landed the role of Chandler Bing on "Friends" and intensified with each new installment of the series. Only in season nine is Perry sober from the first episode to the last.
"In my worst months, I was taking 55 Vicodin a day and my weight had dropped below 100 pounds, but I didn't know how to stop. If someone had sent the police to my house and they had told me, stop drinking tonight or we're going to take you to jail, I'd start packing," the actor said.
Although Matthew tries to hide his addiction at the time, the dramatic changes in his appearance give it away. He suddenly gains weight, then suddenly loses weight. In some episodes, his face is unnaturally red and puffy all the time.
But while for viewers of the series these are only signs of alcoholism that they cannot be absolutely sure of, his colleagues in the series feel firsthand that, like many other Hollywood celebrities, Perry has fallen into the abyss of addictions.
However, none of the actors in the cast publicly discussed the work behind the scenes, and in particular, Perry's sobriety, which in the late 90s and early 2000s was a topic of wide comment.
Jennifer Aniston, Courteney Cox, Lisa Kudrow, David Schwimmer and Matt LeBlanc do the exact opposite – they show care and understanding and help Perry in the game, even if he is difficult to work with at the time.
"They behaved like penguins in the wild. When one of them is sick, the others surround him and support him until he's well. That's what this cast did for me," says Matthew Perry.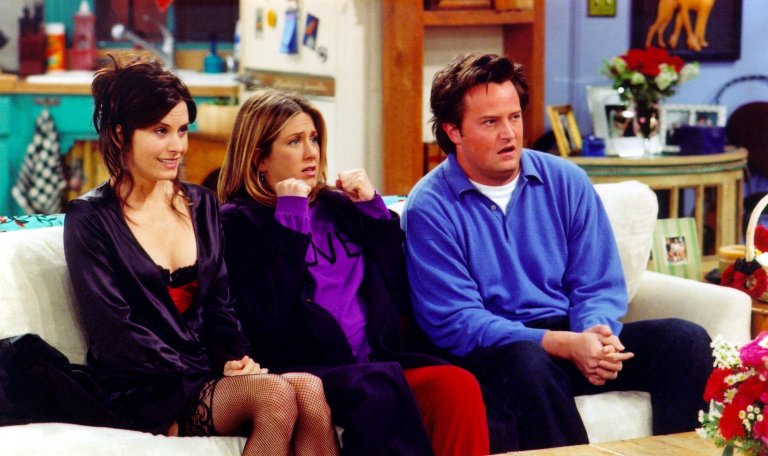 Photo: Getty Images
During the time he tried to give up alcohol and opioids, he entered a rehabilitation clinic 15 times and a hospital 14 times for gastrointestinal operations, but only now can he confidently say that he is completely healthy.
"I only have to look at the scars on my stomach to remind myself why I need to stay sober. My therapist once told me that if I ever felt like taking Oxycodone again, to remember the colostomy bag and imagine carrying it around for the rest of my life . When that picture comes into my mind, I don't want to take Oxycodone," the star claimed.
Today, Perry is more determined than ever to help himself, put addiction behind him, and turn over a new page. He hopes to find a soulmate and become a father, two of his desires that have not come true due to addictions.
As for his relationships with women, Perry says that those relationships can easily fall into two categories – with women who couldn't stand his incessant faltering with alcohol, and with women who were only with him for the money. his.
Therefore, his main rule when dating is that his partner is financially independent. He's looking for someone who pays for his own house, car, clothes and jewelry because he doesn't want to be in doubt again that he's dating a guy who is targeting his finances.
But finding the right mate, as Perry himself says, is "in every way a process that shouldn't be forced." For now, the actor is focused on his health and sobriety. He strives to give thanks for his life every day, and through his memoir he tries to help other people in his situation.
"I say in my book that if I do die, many people will be shocked, but few will be surprised. It's a scary insight to live with. I hope people realize that this disease attacks everyone. No matter whether you're famous or not," says Matthew Perry.
.