sport
It can't just happen to Ferrari
Christian Horner had a tough Saturday at Singapore's Marina Bay Circuit. First he furiously wanted Ferrari and Mercedes to retract their statements regarding a possible violation of the budget limit for last season. After qualifying, he had to explain what happened after the team sent Max Verstappen home before he had completed his final fast attempt, which would have likely secured him pole position for tomorrow's Singapore Grand Prix.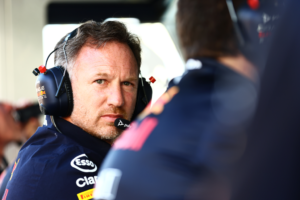 "I think it was a miscalculation on our part. We put in fuel for 5 laps. The track conditions were improving so quickly that we got an extra tour and things basically settled down. But you need to have enough fuel in the car for a test, so it was the hardest decision in the world."
"If you don't have fuel for the test, you start from the pit lane. So it was disappointing given the great pace of the car, demonstrated by the phenomenal performance of Checo (Sergio Perez – b.r.). He took the pole position by two hundredths of a second. It was a very close fight."
"We made life difficult for ourselves, but we will do our best tomorrow. These cars can race. It will be important for Ceco to make a good start. It's a long race from there," Horner added
Verstappen was so angry that he was shouting on the radio on the way home. After qualifying, he continued to wonder how such a mistake was possible.
"This just shouldn't be happening. Either you put in enough fuel or you don't plan a sixth lap – it's monitored during the session. The situation should have been noticed much earlier. I know it's always a team effort, I can make mistakes and so can the team, but that can't be acceptable. Yes, one learns a lesson. But such a situation is terrible and should not happen."
Helmut Marko found an interesting angle from which to look at the situation.
"Such things can't just happen to Ferrari," he said
Verstappen, on the other hand, left the track without ever going to his team's briefing.
Max Verstappen has left the circuit. Hij slaat ook de debrief over met het team. Woedend na failed qualificatie:

"Een grote blunder van het team. Ja, dat zeg ik, ik wil ook dat ze dat tegen mij zeggen als ik een fout maak." #F1

— Erik van Haren (@ErikvHaren) October 1, 2022