At the beginning of the pilot episode of the new Marvel series – She-Hulk: Attorney at Law, we see how the main character Jennifer Walters (Tatiana Maslany of Orphan Black) and her cousin Bruce Banner (Mark Ruffalo), better known as the green-skinned giant Hulk, travel by car in nature.
Their time-filling talk is not like us mere mortals. Instead, Banner tells his cousin trivia about his fellow Avengers.
In one of many meta nods to viewers, Jennifer is most interested in whether Captain America (Chris Evans) has been able to have sex, or if one of Earth's greatest heroes has actually remained a virgin, busy saving the world. A mystery that has certainly racked the minds of some of the more ardent fans of the Marvel Cinematic Universe (MCU).
The problem comes when this mystery is one of the few genuinely fun and engaging things in the new She-Hulk series.
The superhero series will have 8 episodes, and from August 18, the first of them is available on the streaming service Disney+.
The episode, "A Normal Amount of Rage," introduces viewers to Jennifer Walters, a lawyer who we soon learn can, like her cousin, transform into a green-skinned, beefier version of herself. Immediately after that, the episode takes a flashback to show us how this came to be.
Without giving away the details, a key factor is the genetic similarities between Jennifer and her cousin the Hulk, which allow her to "inherit" his powers.
They are relatives, they support each other.
As the trailers have shown, Banner/Hulk takes it upon himself to train Jennifer how to be the (Female-)Hulk. Still, his own arc from The Incredible Hulk (2008) to Avengers: Endgame (2019) involved the complex inner conflict between man and monster inspired by Dr. Jekyll and Mr. Hyde. In other words, Bruce has been in Jennifer's shoes and has about 15 years more experience being the Hulk than she does.
But wait a minute… How can a man explain to a woman how to do something in 2022? Absurd!
Jennifer turns out to be much more in control of her new powers, unwilling to take instruction from her cousin and even acting like an impatient teenager with him. At one point, there's even a monologue on the subject of "beware of men who give women brains", with which She-Hulk tries to tick the box on the obligatory for the modern day "strong, independent woman" theme.
There is nothing wrong with that, on the contrary, it just serves it too directly, already digested to the viewer. But hardly anyone expects an MCU production to delve deeply into social issues.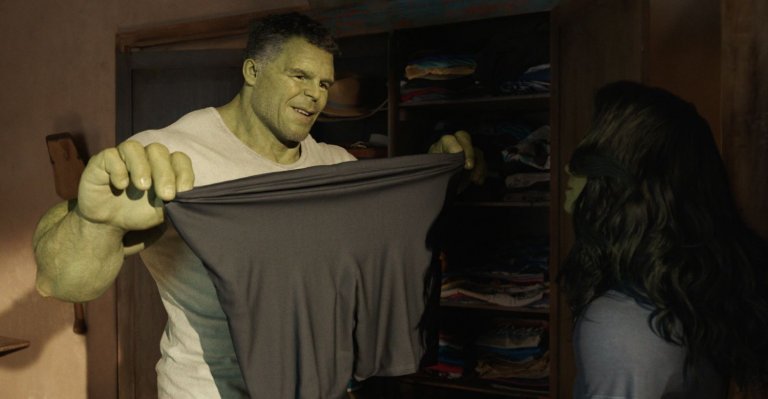 Photo: ©Marvel Studios 2022. All Rights Reserved
Marvel continues to treat the Hulk (Mark Ruffalo) as a comedic character after seeing it work in Thor: Ragnarok.
The thing is, when we talk about the Hulk – whether he's male, female, green, red, white or Asian – the main conflict is between the human and monstrous sides of the character. His/her reconciliation with oneself, and with it the surrounding world and the perception of others.
In She-Hulk, Jennifer seemingly resolves this conflict in the very first episode, as if with the snap of her fingers.
This may have a genre explanation. On paper, She-Hulk: Attorney at Law will be more of a comedy series. In practice, the laughs are not guaranteed, because the jokes in the first episode are not very fresh, some are frankly childish, but even this has become characteristic of Marvel.
On paper, She-Hulk: Attorney at Law is also a lawyer series, but in the first episode, only the opening and final scenes demonstrate this, and in a rather parodic way that even "Ally McBeal" once surpassed in convincingness.
It is important to note here that according to critics in the West, who had the opportunity to preview not just one, but four episodes, the series only manages to become funny towards the middle. Can't wait!
Given that we're talking about the Hulk and She-Hulk, it's clear that most of the time we won't be seeing Mark Ruffalo and Tatiana Maslany, but their green-skinned CGI versions. Maybe it's because it's a TV series, but the visual effects aren't quite up to par with movies like The Avengers. At times, while She-Hulk speaks, and her face and lips do not convey the words completely faithfully, it is possible to think of Shrek.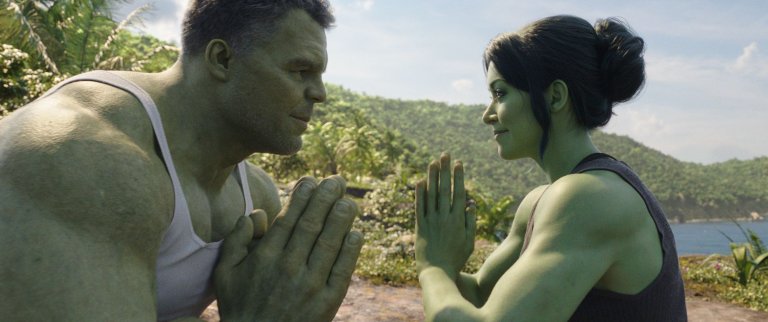 Photo: ©Marvel Studios 2022. All Rights Reserved
"Let's pray it's more interesting from now on."
So that you don't get the impression that this is a completely negative review (it's not, well), we have to point out a few important pluses.
At first, the series will satisfy fans' desire for details and hidden clues about what happened and what is to come in the Marvel multiverse. From an alien ship, through revelations about how Bruce Banner managed to become the Smart Hulk or what happens to his cremated arm after "Avengers: End", to the upcoming meetings with characters such as Everett Ross (Martin Freeman) and Abomination (Tim Roth) .
The point is that the main plot – about Jennifer and her new self – does not get lost in the attempts at meta comments and banter with the rest of the Marvel plots, which not all viewers will understand.
The main plus, however, is that She-Hulk – albeit tentatively at the moment – once again demonstrates Marvel Studios' desire to finally give viewers something different in terms of stories and genres.
A comedy series about a lawyer with superpowers who, on top of that, breaks the "fourth wall" and speaks to the audience? OK, great, it's still something different compared to the usual ostensibly dramatic, but drama-killing, jokey one-liners we're used to seeing from the studio.
We've already seen several successful attempts to give us something different – Loki, WandaVision, Doctor Strange in the Multiverse of Madness. Whether, with seven episodes left, She-Hulk will be able to earn a mention alongside them is too early to say.
For now, after the first episode, the most interesting thing remains the unraveling of the million dollar mystery – did Captain America do the heist or not.
The first episode of She-Hulk: Attorney at Law is available on Disney+. A new one will appear every Thursday.
.