Entertainment
In the Name of the Role: Carried hand weights, read police reports and stayed in shape for months
Early on, Evan Peters, the actor known for a number of projects including American Horror Story and The Mayor of Easttown, is adamant that he doesn't want to take on the role of Jeffrey Dahmer.
While he's no stranger to playing villains and has also worked alongside director Ryan Murphy for years, Peters is simply "terrified," in his own words, of stepping into the shoes of the serial killer who earned the moniker the Milwaukee Cannibal .
"I was really tossing and turning whether I should do it or not. I knew it would be extremely dark and incredibly challenging," says the American actor, who became a sensation with the new Netflix series about the serial killer.
The show Dahmer – Monster: The Jeffrey Dahmer Story became a hit and for weeks entered the charts of the most watched series on the platform for several countries. And the leading reason for its success turned out to be precisely the frighteningly authentic image of the serial killer played by Peters.
In a promotional interview, he, the show's director Ryan Murphy and actors Niecy Nash and Richard Jenkins talk about how they prepared for the project, how it affected them and why it's worth watching.
The main reason Peters was so hesitant about the role was all the sinister things the real Dahmer had done. Between 1978 and 1991, he killed and dismembered 17 young men and boys. Dahmer's crimes also included cannibalism and necrophilia.
Evan knows that if he really chooses to be on the serial killer series, he'll have to get to know him and get under his skin. However, it is the complexity of the character that ultimately makes him agree.
"Ryan [Мърфи] sent me the scripts and then he called and said, 'Dahmer is interesting in that he's almost regretful and guilty or at least kind of confused about what happened,'" Peters shared.
One of the first things Peters did after being sent the script was to watch the 1994 interview Dahmer gave to journalist Stone Phillips on Dateline. This was the actor's first step towards "immersing himself in the psychology of this extreme side of human behavior".
The interview, which is the killer's last, shows Dahmer very calmly talking about his crimes and what motivated him to commit them.
"He doesn't really have the charming, mischievous smile. He's docile, distant and almost detached from what he's done. It was a challenge to try to recreate this guy who looks so normal, but behind it all there's a whole world that he keeps in a secret from others," explains the actor.
After watching this interview over and over again, Peters set about absorbing as much information as possible about his new character—reading biographies of Dahmer, even managing to find police reports and his own confession to the murders.
The 35-year-old actor says that playing the serial killer was definitely one of the hardest things he's ever had to do in his life.
"I felt it was especially important to show respect to the victims and to the families of the victims by trying to tell the story as authentically as possible," he added.
Really serious work for his preparation Peters throws in the purely physical part. He uses the technique of method acting, where he tries to get out of his image as little as possible. For him, however, this means staying in the serial killer's head for months.
In order to recreate the most truthful image, the actor decided to wear lead weights around his arms and lifting platforms in his shoes to mimic Dahmer's physical form as much as possible.
"He has a very straight back. He doesn't move his arms when he walks, so I put weights on my arms to see how it felt. I wore lifting platforms in my shoes like him, I wore his jeans, his glasses, all the time I had a cigarette in my hand," Evan explained.
The point of all this is to make all these little details feel like second nature for the duration of the shoot. To complete this picture, he repeatedly watched the footage of the case against Dahmer and worked specifically with a dialect coach who helped him align his timbre with that of the serial killer.
Peters recounts how, during filming, he listened to a 45-minute audio compilation of Dahmer's taped speeches every day to get as much insight into his speech patterns as possible, but also to get into his mindset.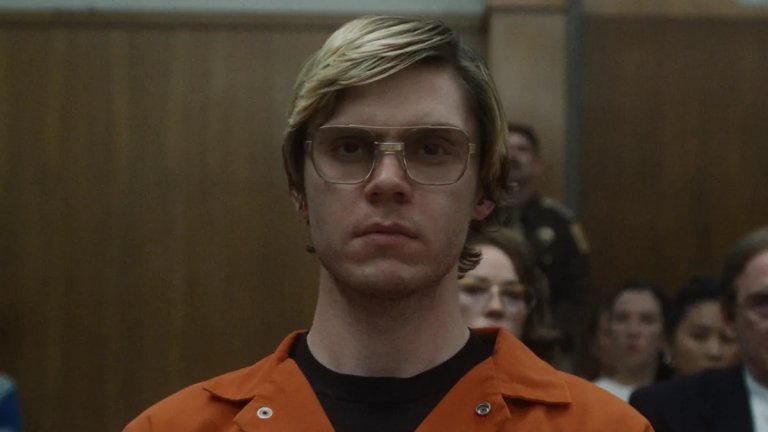 Photo: Netflix
"It was an exhaustive search, trying to find private moments, moments where he didn't seem embarrassed, so I could see how he behaved before these interviews and before his time in prison," he says, adding that his desire was to recreate 120% exactly the image.
Actress Nessie Nash joked about how well Peters actually did, stating that she herself did not know anyone named Evan Peters. According to her, at the very beginning of filming, she approached him with the intention of saying hello, when she realized that he had already entered the role. So she left him alone.
"I prayed a lot for you, really, because it's hard. And when you stay in it and you're attached to the material to the core, your soul is torn at some point. And I could see it getting tired," Nash says.
What helps Peters get out of the dark thoughts after filming ends is a willingness to focus on what comes after filming ends. He explains that he has been focusing on that end goal and the time when filming will be over and he will finally relax.
"I've been waiting for that moment where I can say, 'Okay, now it's time to bring joy and lightness into my life, watch comedies and romantic movies, go back to St. Louis and see my family and friends,'" he explains. he.
The end result of the series is truly impressive – to the point where many have come to criticize it for being "too harsh" and "insensitive".
However, the series was watched 196.2 million hours in its first seven days and broke a number of records on Netflix, reaching the top spot as the most watched series in over 60 countries.
.