sport
"I'm going to beat this Ukrainian homeless man!": Usyk, Fury, the 4 belts and a historic fight
The most anticipated boxing match of 2022 (at least so far) ended in a decision. Oleksandr Usyk defeated Anthony Joshua for the second time in a row, putting an end to their rivalry. But the Ukrainian can take another step towards greatness. He's just one belt away from becoming the first to unify all four heavyweight belts, and standing in his way is none other than Tyson Fury.
The second win over AJ further boosted Usyk's stock. Currently, the Ukrainian holds the titles of WBA Super, WBO, IBF and IBO, as well as that of the prestigious fighting magazine "Ring". Three of them carry real weight: WBA Super, IBF and IBO. But in order to become the undisputed champion, Alexander must also win the WBC title, which is currently held by Fury.
Usyk understands this perfectly and immediately sets his sights on a clash with the Gypsy King.
"Fury? I'm sure he hasn't given up and that he wants to fight me. I want to fight him too. Either I'm going to fight Tyson Fury or I'm not going to fight at all", the Ukrainian was categorical after the victory over Joshua.
Dury has held the WBC belt since 2020 and already has two serious defenses behind him. At the same time, the Brit constantly keeps the audience on their toes with his constant withdrawals and comebacks and with his constant revelations about his mental problems and his problems with alcohol and drugs.
Naskroo Fury again announced his retirement from boxing several times. After one of them he came back and announced a fight against Derek Chisora, but literally the next day he said he was quitting boxing again. After Usyk's victory against Joshua, he once again changed his mind.
"I saw Joshua fall to Usyk for the second time, the opponent just wasn't up to it," Fury commented on AJ's loss in a video on social networks.
England lost their titles, but I can offer a solution to this problem. If you want the titles back, count on the Gypsy Barbarian. Count on me and I will take the titles away from this Ukrainian ass.
The same thing will happen to him that happened to the previous Ukrainian ass. But it won't be cheap. If you want to see it, you'll have to pay. And the price will be high, so get out the checkbooks. I'm ready to strip this Ukrainian homeless man of all his titles."
And Fury wasn't kidding. It is already rumored that the Briton will be looking to collect not only the four championship belts, but also a commission of a far more modest 150 million euros. Speculation has already begun to swirl about a rematch in Saudi Arabia, but Tyson's fee for the gala night will have to be stellar.
The gypsy king "fed" not only Joshua, but Usyk, denouncing their fight as the "most uninteresting" title match.
"I'll be honest with you guys – after watching the match, I thought both of them were good for nothing. It was the most uninteresting championship match I've ever seen. It was terrible. I'm going to beat them both in one night."
The last undisputed heavyweight champion was Lennox Lewis in 2000. But no one has ever held all four belts at the same time.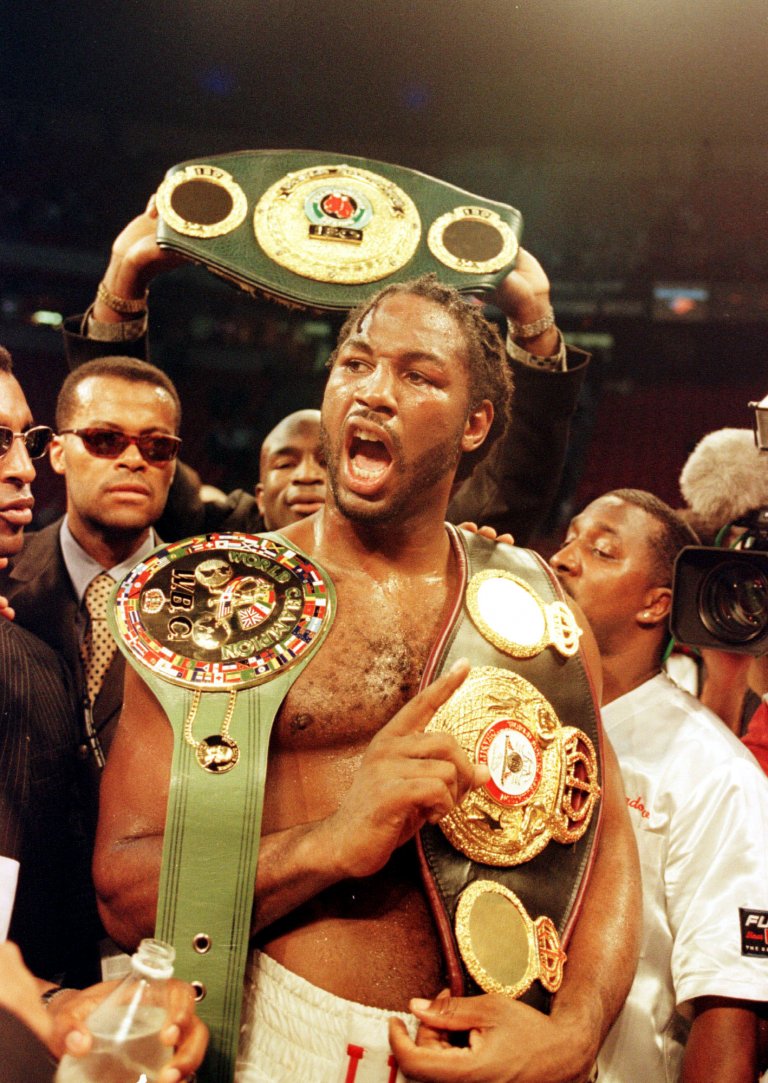 A possible heavyweight title unification match between Usyk and Fury would be extremely curious from a tactical standpoint. The Gypsy King doesn't have the power of Joshua, but he's far more technical, and his long arms will put Usyk in a completely different matchup than the one against AJ. The Ukrainian won't be able to "touch" Fury so easily to score points, while at the same time the Briton's chin is more serious than Joshua's.
Also, Tyson will engage Usyk in a much more serious trash talk before the match. The Gypsy King loves mind games, while Joshua doesn't. He proved it with his outburst after the loss last weekend. Fury not only has a better chin, but also more fighting spirit – we all remember his resurrection in the first fight against Wilder.
Some analysts even completely write off Usyk and predict an easy victory for Tyson. And whoever wins will become the first undisputed champion in over 20 years.
The last such heavyweight was Lennox Lewis, who lost this status in 2000. However, then the legend only held the WBC, WBA and IBF belts, as the World Boxing Union (WBO) title was not officially recognized as one of the most high until 2007
Since then, for 15 years now, no boxer has managed to unite all four belts. And one of Fury and Usyk could do it if a match between them is indeed arranged.
As for Joshua, the two losses in a row will seriously damage his confidence, but he also has to think about his next opponent. Perfect for the spectators would be a possible match against Deontay Wilder, who, like him, reeled off two consecutive losses, but to Tyson Fury. Both boxers are extremely attractive and looking for the knockout, so if it were to be staged, we'd bet the fight wouldn't go to a decision.
Another good opportunity for AJ is a British clash with Dillian White, who was knocked out by Fury in April. White is also a spectacular boxer who is ready to trade punches with anyone, which makes his fights a real show.
But the main thing that every boxing fan is hoping for is a unifying fight between Usyk and Fury, after which we will once again have an undisputed champion. And this after a clash between two previously undefeated boxers. However, one will have to lose, while the other will bathe in historical glory.
.