sport
"I'll never forget how 60 thousand scream my name, but I'm leaving the toxic world of football"
The end of 2022 will also mark the end of a career – that of one of the most prolific goalscorers of his generation. To Gonzalo Higuain.
The Argentine will be remembered as a goal machine at club and national level; as one of the fewer and fewer pure "nines". He will also go down in history with his huge gaps with the national team and his wrong decisions when choosing teams.
Apart from all his goals, fans will also remember him for the millions of memes with which they made fun of him, both their own and those of others, and beyond their love, Higuain will never forget the online abuse that was poured on him almost after every game in the last ten years.
Few footballers have reached the heights El Pipita conquered, scored more goals or won more trophies than him. And, as always, it all starts with the love of a ball – not the ground ball, but the soccer ball.
"I started playing football because I loved the game – revealed Higuain in an interview with "Goal.com" a few weeks before announcing his decision to retire. – I didn't do it because I wanted to become famous or anything like that. I played with passion and I dreamed of becoming a professional. But when it happens, you realize that things are not the same anymore. The love for the sport is not the same because of the money, the directors, the contracts. Your life changes completely.
I've been through good times and not so good times to get here."
The 34-year-old striker is fully aware of the reputation he has among fans. While many of his "sets" often point out that they do not pay attention to the writings about him in the media and social networks, Higuain knows that for a large part of the supporters his name is synonymous with failure. And that annoys him.
"My life hasn't been very normal," he says. "The most unpleasant thing is that I can't react when someone insults me without even knowing me. It's hard, especially when they do it in front of your family. People think, that if you earn a lot of money, they have the right to insult you. But if you go against me, you must be ready to fight back.
I'm tired of being silent and doing nothing when someone insults me, especially in front of my family. I want this to stop – having to swallow everything, then having to go out on the pitch and continue to be insulted. Most people don't understand how hard it is not being able to defend yourself."
Higuain understands that much of the harsh words directed at him come from fans still furious at his omissions for Argentina at the World Cup and Copa America. But that's only part of his story, he believes. The other is the 364 goals he has scored at club and national level. As well as for the titles in La Liga and Serie A and the other trophies, for the "Golden Shoes". For the years he had to play a supporting role alongside Cristiano Ronaldo and Lionel Messi.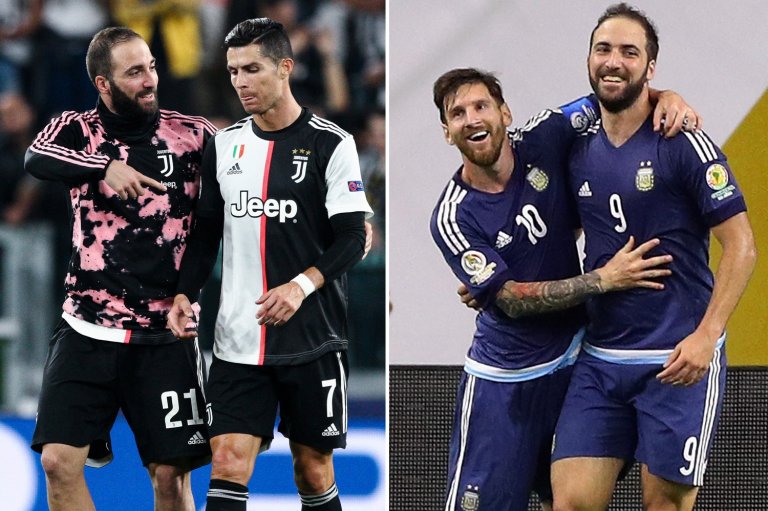 He will return to these moments after his retirement. He has no regrets about anything in his career.
"I've scored over 350 goals," he says. "Maybe if it wasn't for the bad moments, I wouldn't have enjoyed the good moments as much. There are situations where you score three goals but miss a fourth, and that's what you remember. But I am happy with everything I have achieved.
There are also times when you lose. I have lost finals – the Copa America, the World Cup, where I had the misfortune of missing important goals. These are difficult times, but a year later I was sold for 90 million euros to Juventus and became the most expensive Argentine footballer in history. That's worth remembering."
At Real Madrid, Higuain was often made the scapegoat, despite scoring 121 goals in 264 games. He also performed miracles of bravery at Napoli, scoring a record 36 goals in 2015/16, which unfortunately was not enough to win the title. After his transfer to Juve, he immediately turned from a hero to a traitor for the southerners. Despite his 55 goals in his first two seasons, he was never loved in Turin, and his spells at Chelsea and Milan could easily be written in the "failures" column.
His success and goalscoring figures deserve respect, but Higuain has never been able to win people's hearts. Even in his native Argentina, they pointed out the fact that the Albiceleste managed to triumph in the Copa America only after he quit the national team. But he says that he is as happy as they are about this success and that he does not envy the winners at all.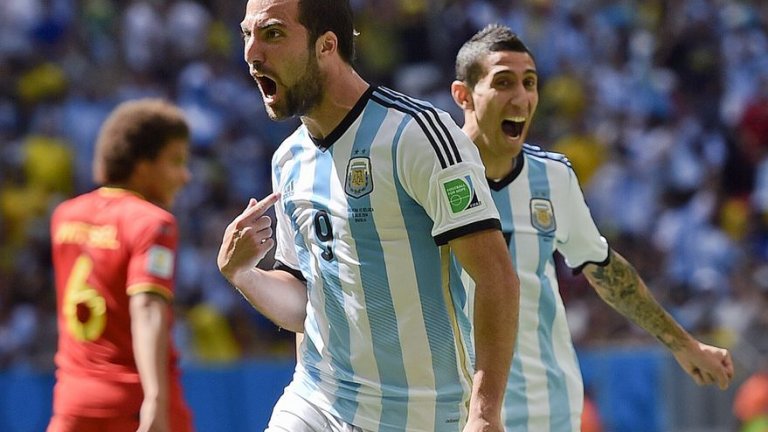 "For me it's fate. We were lucky to play three finals, unfortunately we lost them. After I left the national team, they managed to win this final and I'm very happy. The medical staff, the team managers, Messi, Di Maria , Otamendi, Aguero – they are all my friends. And I was happy for them. It's not shameful."
Although fans in Naples started burning his shirts after he took off for Turin, he will never forget the earth-shattering roar from the stands at the now-named Diego Armando Maradona Stadium: "GON-SA-LO I-GUA-IN!"
"Those moments are unforgettable – says El Pipita. – It's one of the most wonderful things you can experience as a football player – a whole stadium of fans shouting your name after a goal. I get chills every time I think about it.
But not every day is like that. One day 60,000 people can be shouting your name and two weeks later booing you. In football, everything changes very quickly. So over the years I've learned not to be too influenced by it. I found the balance. But, without a doubt, these are some of the greatest episodes of my career. In those moments you feel like a star. I can't forget them."
In his final days at Inter Miami, Higuain rediscovered the form we know. In the last 16 games, the Argentine scored 14 goals, although at one time he was anchored on the bench. The forward is ready for one more short challenge – the MLS playoffs – before finally calling it quits.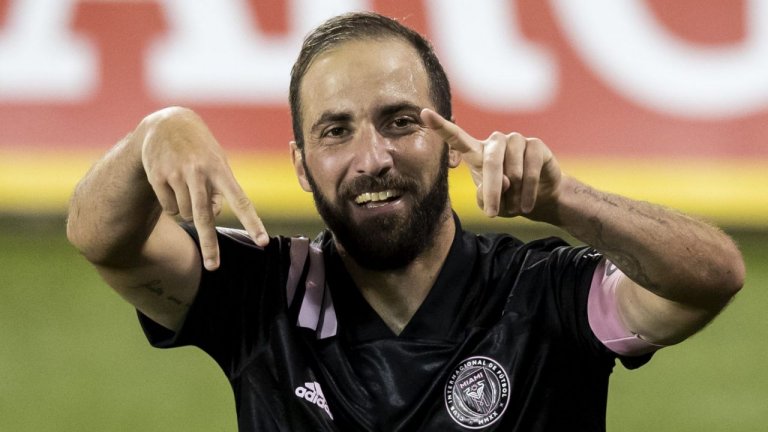 "Here in this league I started to appreciate things that I didn't before. I love my daughter and my partner. Now my life revolves around them. They are the people who are there for me through thick and thin.
I would like to learn to cook, play the guitar or learn English. I have no intention of staying in football, at least not for a while. Every day this world is getting more toxic, I can't see myself in football after I stop playing. I want to be as far away from this sport as possible.
Yes, I will continue to watch, but you have no idea what I have had to deal with in this sport. I feel more and more that this world is not for me. I want to try something different after football and enjoy time with my family."
No matter how much he loves football now, the fact that he missed out on becoming a world champion mainly because of his own mistakes, or that he missed out on leaving a bigger mark, Higuain is happy with what he has achieved.
"I am proud of my career. I played for the best teams in the world. I wore the national shirt for nine years. I played in the World Cup, in the Champions League; I achieved all my goals. And nobody can take what I have earned."
.