Entertainment
He was the highest-paid child actor on Two and a Half Men, then became religious and urged people not to watch the show
"Jake from 'Two and a Half Men' means nothing. He's a non-existent character. If you're still watching 'Two and a Half Men,' please stop watching him. I'm on 'Two and a Half Men,' and I don't want to be there."
In the autumn of 2012, these words came out of the mouth of the then 19-year-old actor Angus T. Jones, popular worldwide with the role of Jake – the youngest of the faces of the hit comedy series "Two and a Half Men".
Just a year and a half earlier, the series had suffered a scandal because of Charlie Sheen, who was struggling with his drug addiction, and because of his insults to producer Chuck Laurie, he was fired.
Jones' words against "Two and a Half Men" did not come from banned substances, but from his newfound faith in God.
And it goes with a public realization that the series he starred in – and which made him very rich at a young age – didn't fit his own values.
This is also the reason why we haven't heard anything about Angus T. Jones for several years now. The once little cutie playing the role of Jake is now a 29-year-old man with a three-inch beard and no public appearances.
Angus' career began at perhaps too young an age. Only 5 years old, he had a role in the criminal "Simpatico" (1999), where Nick Nolte, Sharon Stone and Jeff Bridges were in the lead roles. After that, the child actor starred in several more films, including "The Debutante" (2002) with Dennis Quaid and "George of the Jungle 2" (without Brendan Fraser).
The breakthrough came when he was cast in Two and a Half Men. It stars Jake – son of Alan (Jon Cryer) and nephew of Charlie (Charlie Sheen), two brothers forced by circumstances to live together.
Little Angus with his colleagues from the first seasons of the series.
For most of its existence, Two and a Half Men was the most popular sitcom in the US. This also affects the pay of the actors. In 2010, the then 17-year-old Jones signed a new contract, according to which he will receive at least $300,000 per episode for the next two seasons. This also makes him the highest paid child actor in history.
However, comments he made in early 2012 were a harbinger of the storm to come. The young actor explains that it is "embarrassing" to play an adult, given that he does not yet feel like one. On screen, his character Jake already smokes weed and has relationships with various women, some of whom are older than him.
In November of that year, a controversial interview was published on the YouTube account of Forerunner Chronicles, an independent sect led by a man named Christopher Hudson. It is in this video that Angus T. Jones advises people not to watch the series with him and states that he does not want to be in it.
"Please stop filling your head with dirt," the grown-up Jake says of the series.
It urges people to "research the effects of television on the brain" and says it will help them make decisions about what they watch and what they watch.
He also explains that he recently became a Christian and was baptized.
"If I'm doing any harm, I don't want to be here. I don't want to contribute to the plan of the Enemy," Jones says in the video.
"There's no playing around when it comes to eternity. People will look at us and say, 'I can be a Christian and be on a show like Two and a Half Men.' You can not. You can't be a God fearing person and be on a show like this. I know I can't," adds the actor.
The only public support from the team he found at the time was from Charlie Sheen, who had been fired from the series a year earlier. He commented that this Angus T. Jones from the YouTube video was not the one he knew and "still loves".
For what is happening to the young actor, his former colleague blames the creator of the series, Chuck Laurie, with whom he had an absent feud around his own departure. Thus, according to Sheen, Jones' words were not an isolated incident, but a "symptom of the toxic environment" surrounding Two and a Half Men.
A little later, Jones, perhaps prompted by his agents, tried to cover up the situation with an official statement in which he said he respected and thanked "all the wonderful people" on the team of the series with whom he worked for an entire decade.
He adds that the producers of the series are "responsible for what has been one of the most significant experiences of my life so far" and thanks them again for the chance they gave him.
The Seventh-day Adventist Church in the USA also issued a statement stating that Forerunner Chronicles is not an affiliated organization and that Christopher Hudson is not a pastor of the church.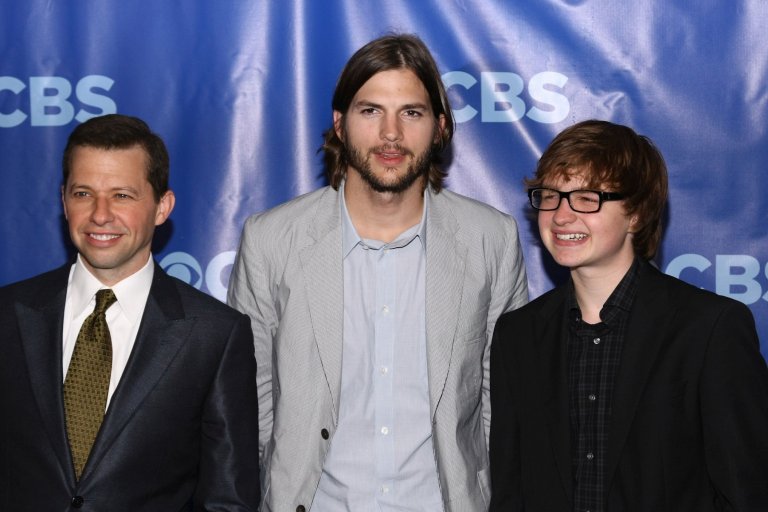 Photo: Getty Images
With Jon Cryer and Ashton Kutcher in 2011.
A scandal like the one involving Charlie Sheen has seemingly been avoided.
In the spring of 2013, Warner Bros. have announced that Angus T. Jones will no longer be a main cast member in the series' 11th season and has been "demoted" to a regular cast. His character, Jake, at the time had left Allen and Walden's (Ashton Kutcher, Charlie Sheen's stand-in) house and gone to live in Japan.
However, Jones never appeared in the entire 11th season, and in 2014 he stated that he was permanently out of the series.
At that time, he was already a student at the University of Boulder, Colorado. He initially pursued Environmental Studies, but switched to Jewish Studies at the end of his first year, possibly as a continuation of his religious pursuits.
In an interview he gave at that time, he said that his problem with "Two and a Half Men" was that the series looked lightly at problems that were serious for many people in the world.
"I was paid to be a hypocrite because I wasn't OK with it, but I kept doing it," Jones told local television.
In addition to attending university, he also gives lectures to people, to whom he tells about his past as an actor and how he found God.
That said, he appears as Jake in the series finale. Producer Chuck Laurie revealed at the time that Jones had apologized to him and noted how happy people in the Two and a Half Men taping audience were to see the young actor's appearance.
Even the technicians had to silence their shouts and applause for the broadcast of the episode.
Beyond that, Jones appeared in Louis CK's web series Horace and Pete, but generally left acting behind. The "Bible-based" game projects he mentioned he was working on also failed to materialize.
He told People in 2016 that he would no longer be involved with various "faith-based organizations" as he had been doing for the past three years. His life took a different turn that year when he began organizing events for Sean "P. Diddy" Combs' son's company.
With that, his public career died down.
Every once in a while, a paparazzi captures the once cute kid with a long shot, of whom Jones now only vaguely resembles himself with a face covered by a long beard.
But in the end, his story ends much better than that of many other child stars whose lives have been marked much more severely than they have been with the entertainment industry.
.