sport
Hayden Penettiere did not give up her daughter easily, Vladimir Klitschko put her in front of a fait accompli
When Hayden Penettiere looks at his public image, he sees a major misunderstanding.
The audience automatically imagines her as a person who easily abandoned her child, because in 2018 she gave up the rights to her daughter Kaya, and the girl subsequently lived with her father, Wladimir Klitschko, in Ukraine.
"There was a magazine cover with the headline 'Why did Hayden decide to give up her daughter?' and people were like, 'How dare she, she's a terrible mother!' I would never do that to my child." So, yes, it's been hard and it's taken me a long time to talk about it because it's scary. I don't want to make anyone angry, especially the person who has control over my child ", says the actress in an interview with The Red Table Talk.
Four years after signing the papers, however, Penettier wants it known that the decision to give up her daughter's rights was not entirely hers.
Although she then struggled with alcohol and opiate addiction, and after becoming a mother faced symptoms of postpartum depression, according to Hayden, the transfer of custody was largely orchestrated by Wladimir Klitschko.
"Actually, I didn't know what was happening until I found out that my 3-year-old daughter was already in Ukraine. In a country where her father is an icon and her uncle is the mayor of the capital. We hadn't discussed anything, he (Klitschko) didn't come to me to say, "I think that because of the situation you're in now and because of your difficulties, it would be better for her to be with me." Probably if we had had that conversation, I would have I agreed with him. But he did something else that really broke me. Signing those papers was the most painful thing I've ever had to do," Hayden recalled.
Putting her in front of a fait accompli, after he took their daughter and left for Ukraine, Klitschko tells the actress that she can visit them at any time, regardless of the fact that she formally has no rights over Kaya, but advises her to pay attention to -his big problem – alcoholism.
Penetier doesn't remember ever turning back glass after glass, nor getting into those states where she can't imagine a day without drinking, but she doesn't hide that she had a problem with alcohol that started with her unstable emotional state .
When there's a problem, when her plans don't go as expected, or when she's overwhelmed by heavy emotions, she's seen alcohol as the answer.
"I'm not a patient person who will buy a diary and a pen to write and analyze my feelings. I'm looking for a quick fix, and for a certain period alcohol was just that," says the actress.
The tell-tale sign that there was something rotten about this problem-solving technique came on during the filming of Nashville. The situation gets out of control when Penetier has to shoot episodes in which her character becomes addicted to alcohol, becomes pregnant and has postpartum depression.
Moments that match her personal life and her struggles.
"I had to go to work and live my worst nightmare. So at the end of the day, I didn't want to sit and be alone with my feelings. I wanted to escape and isolate myself from everything that was going on," says Hayden.
When the shooting of "Nashville" ends, she takes a break and locks herself in her house with only the company of bottles of alcohol. But a month later, he realizes that it won't end well if he continues to drink and sleep on the floor in the fetal position, so he contacts a clinic and seeks help.
From the doctor, the actress understands that her situation is much more serious than she imagined, and that if she doesn't join an alcoholic program now, it may be too late.
In the process of treatment, Penettier learned that her propensity to become addicted to substances that harmed her life and health actually began at the age of 16. The same year she became popular as the teenage girl with supernatural powers in the series "Heroes".
Like many of her peers and celebrities, Hayden is also unable to cope with the sudden invasion of her personal space, the abundance of attention and the series of duties alongside the promotion of the series.
The actress remembers that during one of her engagements she felt extremely exhausted, and when she shared this with the production team, some of them gave her "happy pills" and promised that they would restore her energy.
"I probably should have thought it was ridiculous, but I didn't because I'm very trusting. When I took that pill, I didn't lose control, I didn't act inappropriately. I felt happy and really full of energy. I was 16 at the time and it didn't occur to me that in this way I was opening the door to a serious addiction," says the actress.
However, the final straw for her mental instability comes after giving birth. According to the agreement with the ABC television network, Penettiere must return to work three months after the birth of her daughter. With extra pounds that make her feel uncomfortable in her body, and with emotions around motherhood that she doesn't know how to interpret.
Hayden says everyone around her noticed she was going through a rough patch after giving birth, but no one took her seriously, including her then-partner Wladimir Klitschko, who believed she would deal with her feelings on her own.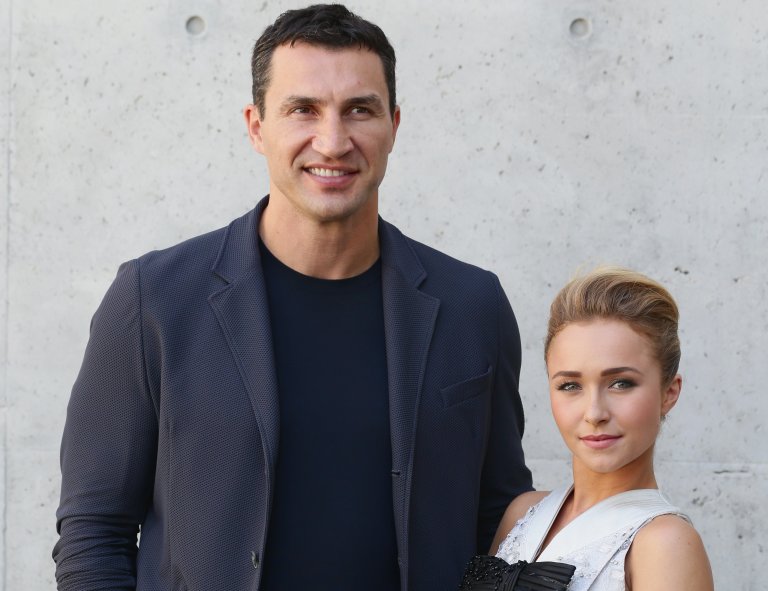 Photo: Getty Images
"I admire his outlook as an athlete. He once wrote to me in an email: 'If you can control your mind, you can control anything'. But I didn't know what was happening to me, much less how to control it. I never wanted to hurt my child, but I didn't want to be with her either," the actress told People magazine.
But after nearly a year of therapy, she's convinced she's ready to live with her daughter Kaya again and is doing everything she can to regain custody. After the Russian invasion of Ukraine, the child was moved by Klitschko to a safer place, but Penettier is sure that Kaya needs her mother and shows it in indirect ways.
"Vladimir told me that she had been following different women and asking them if she could call them 'mum'. He thought it was very funny, but I understood that it was a cry for help. When I spoke to her, she started making 'goo-goo-goo' and 'ga-ga-ga' sounds, which she's never done before. I was out of breath and my heart stopped," the actress described.
She is adamant: "Children should be with their mothers. I have not lost hope that Kaya will return to me when she is old enough to respect her opinion, because I am trying to convince her father that by keeping her away from me, it traumatizes her, it's a lost cause"
.