Entertainment
Got the role of a lifetime because of the studio boss's secretaries and became an action icon with The Alien
Ellen Ripley is a legend.
Even before Sarah Connor showed the "strong woman" in "Terminator 2", Sigourney Weaver's character in "Alien" (Alien, 1979) made a small revolution, being a female character with a central role in such a production.
And in fact, the plan was very different – Ripley was a man in the original scenario, in which the people on board a spaceship faced an unknown and deadly threat.
"But the writers decided it would be very timely to cast a woman as the sole survivor. No one could have predicted her," Weaver recalled decades later.
And really, hardly anyone expected Ripley to be so important, because the image is a 28-year-old theater actress, who for the first time gets a leading role on the big screen. "Miss Nobody," as Weaver has described herself since the late 1970s.
But a successful role changes that and becomes the basis for a successful career. A career that blossomed with a role in a major sci-fi film, and reached another in a new era for the genre, when Weaver worked again with his old acquaintance James Cameron in his Avatar series.
"I never thought I would be an actress," admits Sigourney. The reason for this is nothing but her height.
Only at the age of 11, she was already 179 cm tall. She towered over her mother and most of her acquaintances. "I felt like a giant spider. I never had the confidence that I would be able to play," she explains.
Her mother – British – even dreamed that one day her daughter would marry Prince Charles. "He'll never choose me! I'm American," retorted Sigourney… who didn't even call herself that at the time. She was actually born with the name Susan. He changed it to Sigourney when he was 13, inspired by the novel "The Great Gatsby".
She graduated in English at university and is considering becoming a teacher or a journalist. Later, however, she took up theater, and her friends began to hire her for their plays in New York. It took her two years to realize that she was an actress and that she could actually make a living doing it, even to the surprise of her own parents.
However, when the offer for "The Alien" comes, she does not want to participate in it.
She showed up for a meeting with director Ridley Scott in "the highest heels" ever (Weaver's peak height is just over 180 cm) and told him she didn't like the script. However, when Scott shows her the designs for the production – such as drawings of the alien eggs, for example – she is impressed because they have nothing in common with any other film she has seen.
Scott is so keen on her taking on the role that he builds a set specifically for her camera test. According to her, he fought for her to get the role because the studio did not want an unknown actress. In the end, a few unknown women turn out to be the deciding factor.
"The head of Fox was watching my tests on camera in his office, turned to his secretaries and said, 'What do you think? Do you like her?' And they said, 'We like her, we think she's great.' They won me the role. Thank you, ladies!" says Weaver.
And there is a reason. The role of Ripley not only opened the gates of Hollywood for the actress, but beyond that it influenced the entire film industry.
James Cameron and Sigourney Weaver – a partnership that will give results 40 years after "Aliens".
Seven years later, Weaver played Ripley again, this time in the sequel The Aliens (1986), written and directed by James Cameron, and the meeting between actress and director would bear fruit even decades later. Weaver recalled to The Associated Press how impressed she was with the script and how Cameron knew more about her character than she did.
"We redefined what power is," the director says of what he and Weaver accomplished with "Aliens." "It wasn't just about physically kicking ass, it was about having emotional strength. It's not about being strong and fearless, it's about what you do in the face of fear. That's what this movie is about."
Weaver also received his first Oscar nomination for his performance in The Aliens.
She entered the role for two more sequels, and to this day she is mostly associated with her. And it can't be otherwise – Ripley really changes the concept of the woman on screen. She is no longer defenseless in need of rescuing, but has power and can be the leading face of an expensive production.
Over the years, various actresses have said that this performance inspired them. Jennifer Lawrence has stated that she based her character Katniss from The Hunger Games on Ripley, and Charlize Therons credits Weaver's work as an inspiration for her role in Atomic Blonde.
"I'm flattered when actresses say about Ripley that she was important to them. I think it was a really fresh idea at the time to have a woman as the character," she tells EW.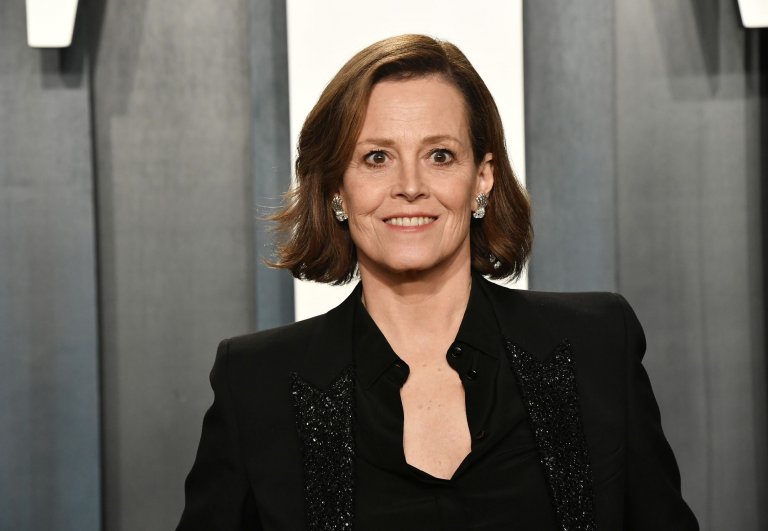 Photo: Getty Images
Weaver in 2020
Decades after becoming the face of that sci-fi franchise, Weaver found a place in another one. He got a role in "Avatar" (2009), the ambitious project of the director of "Aliens" James Cameron.
The film, looking at the relationship between humanity and aliens from a very different angle, became the highest-grossing production in the history of cinema and is at the heart of the 3D revolution in Hollywood.
And while her character died in the original film, Cameron found work for Weaver in the planned sequels as well. After "Avatar" returns to theaters in the fall of 2022, the sequel, "Avatar 2: The Path of Water," arrives in December of that year, and three more films are on the horizon.
Acting in such a film is a challenge for Weaver, who is now over 70 years old. Together with her younger colleagues, she must perform numerous exercises to satisfy the demands of the demanding director.
With the help of instructor Kirk Crack, who also trains seals, he manages to achieve an impressive amount for his age. Including holding his breath for six and a half minutes.
"I like working with young people because I learn so much from them. And I like to do things my way. I'm always on time. It's important for older actors to show that they're always prepared. And I get great roles ", says the actress about the current stage of her career.
"I was never the babe or the beautiful ingénue or the love interest [на главния герой], because I was too tall. So I've always played interesting people and that continues. It's not like I suddenly have to realize who I am."
.