Entertainment
Get your lapel done by Gina Lollobrigida – you're swooning! And it happened to me
Long live Gina Lollobrigida! Long live cinema! With these words, the film "Box Office 3 D" ends, filmed in our country in the studios in Boyana, in which the queen of the big screen participates, albeit as an icing on the cake at the end. In the main role and producer is Ezio Greggio, a big star in Italy, creator and host of "Masters of the Air".
The Bulgarian actor Georgi Zlatarev, part of the troupe of the "Vazrazhdane" theater, where he plays in hit titles from the poster, is often invited to film in foreign productions, and one of the many is "Box Office 3D" – this is how the unforgettable creative encounter with the eternal and the saint, Jinnah.


Georgi Zlatarev in "Freddie Mercury's Last Secret" (Photo: Revival Theater)

– Tell us about the film, when, among other things, you enjoyed the moment of meeting Gina Lollobrigida herself?
– He was here, in Sofia, ten years ago. It was the first Italian 3D film – the title is "Boxoffice 3D", starring the comedian Ezio Greggio, the creator of "Masters of the Air".
Gina Lollobrigida had not appeared in the cinema for a very long time, about 20 years by then. The film is a comedy, a parody of famous box office titles. We make fun of 10 American movies. I was in three: "The Leonardo Cipher", "Gladiator" and "The Godfather". The others are "Avatar", "The Mask of Zoro", "Harry Potter".
And she was arriving after the last part. He appears at the end of the film and tells Ezio something like: "What nonsense are you up to?". She was playing herself. After that, the two get into a retro open car and all of us, after them, went around the streets of New York – the famous setting in Boyana, like a grand parade. Like all big names, she was natural, down to earth, came and greeted us.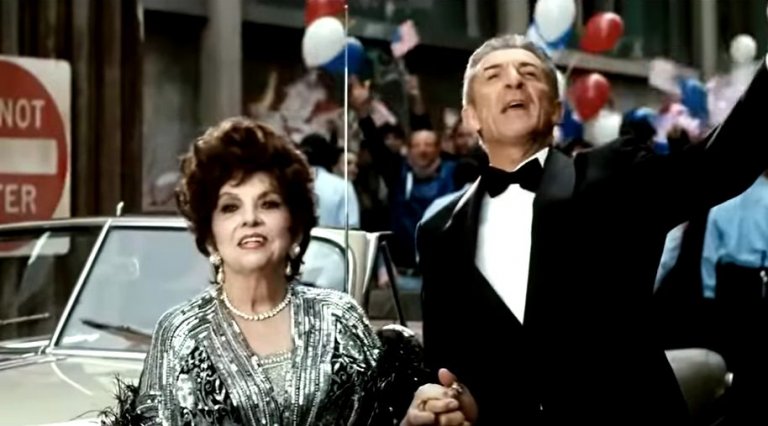 Gina Lollobrigida and Ezio Greggio in the final scene of "Boxoffice 3D"

Her assistant was traveling with her and we were chatting and he showed me pictures of her latest sculptures on his phone. She works a lot in bulk, it's not about small plastics, and right then the two of them were very excited about some upcoming project.
However, we, on the set, were much more excited because Gina Lollobrigida is part of the history of cinema, of the world. With her acquaintances and influence, they say that if she decided to reshape the world, everyone would be rooting for her. And the relationship with Castro, and not only.

She is an extraordinary woman! When we spoke, my voice trembled, my legs, my knees buckled. Fix your lapel and collar Gina Lollobrigida – you're swooning! And this happened to me.
She would come and talk to her colleagues quite normally and naturally.
– Was she so magnetic live?
– It's hard for me to say how much the person herself or the image you've created in your head, knowing who she is. I've seen her in everything.
She was for many years the most powerful woman in the world – so I don't know if there was exactly magic about her, but the funny thing was watching Ezio Greggio himself nailing 20 million in front of the TV in prime time on the most watched channel 5 every in the evening, he was jumping around her, stuttering, how his voice was trembling with excitement! We've all swallowed our biography, as they say. We only wanted to worship her!
And many big Italian stars took part in the film, who were even more upset than we were.
I was surprised that they let me take a few shots with the camera when we went to shoot the motorcade scene.
I expected to be banned, but she herself even said at the end: "Let's take a picture together, everyone". When a person knows his price and it is high, he does not need to show anything. When you know you're good at something, you don't need to show it off.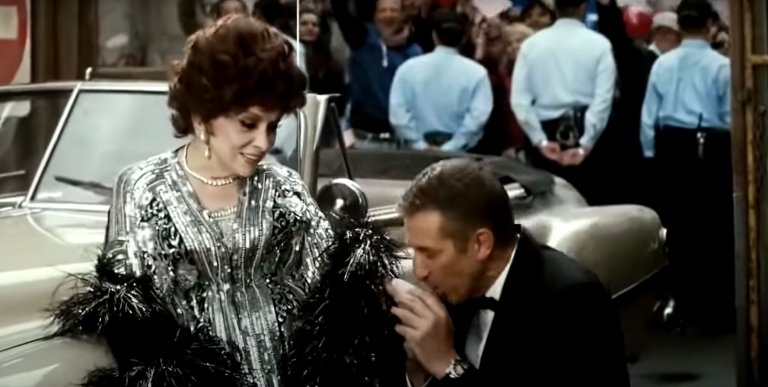 Gina Lollobrigida and Ezio Greggio in the final scene of "Boxoffice 3D"

– Did you speak Italian?
– Yes, I also played in Italian, but the director was English and we spoke in both English and Italian.
When the company is mixed, we prefer English. I talk to the Italians in Italian, to the English in English, and it becomes crazy at one point. I usually switch and don't feel which language I'm strumming, and by the dumbfounded look of the person opposite I know I'm not speaking the right language.
Lollobrigida had turned down many films before this one, but somehow she agreed. The main character circulates in many stories and finally comes across her – an emanation of the cinema that tells him a kind of "Ya, calm down". She was here for two days. She was flown straight from the airport to the shoot, and her assistant was worried that she would not have time to rest.
– How would you describe her place in the cinema?
– The truth is that whenever it comes to "Our Lady of Paris" and Esmeralda, I always imagine Gina without absolutely any doubt.
Her face, her acting – even when I watch the Disney animation I still somehow picture her. From then on, for the Italians themselves, she is an icon. It is far beyond cinema.
– For this Tik Tok generation, is European cinema lost, would they be more curious to watch these film samples?
– When some people grumble in Bulgaria about something, I tell them that there is no problem that does not exist elsewhere, in Italy for example, to a lesser or greater extent. Some time ago they threw Fellini's sets out of a studio to put on a show inside with girls with feathers stuck in their backs.
Old movies are exceptional for their time! And no cinema beyond Italian has managed to reach Hollywood in terms of fame, I'm talking about Fellini, Visconti, but that was for then.
Many directors and artists make the mistake of making films like those back then. The pace, the symbols, the means, the metaphors, were very relevant for the 70s, 80s of the last century. And they are genius – all these films that were ahead of their time. But it should not be forgotten that we are in the 21st century.
Yes, there have been some superficial Marvel movies in recent years, but a lot of valuable stuff has been born. And in Hollywood.
There was a lull in Italian cinema, but then Sorrentino, Genovese appeared. Fantastic Spanish directors appeared. As well as Mexicans – Guillermo del Toro, Alejandro Iñárritu, Alfonso Cuaron. "Roma" has all the ingredients of old movies and yet it's shot in a modern way, and it's in black and white. The action is actually there.
I like Tarkovsky, but if someone made a 15-minute long shot of a jug falling and shattering, I'm not likely to be impressed.
Boryana Kolchagova's interview