sport
Francesco Totti with new revelations about the most terrible period of his life – Football World – Italy
Francesco Totti made a new revelation to Corriere Della Serra about his life and his separation from his ex-wife Ilari Blasi.
"After 20 years of marriage, unfortunately, our relationship ended. I tried to overcome the crisis, but I realized that separation, even if it is painful, cannot be avoided. I will continue with Ilari to raise our three wonderful children and always will I treat her with great respect," said the former Italy striker.
There are only three people I love more than myself: the children (Christian, Chanel and Isabel), whom I am ready to protect in everything. There is also a love that lasted 20 years," Totti is frank. "Everyone was talking about it except me. I didn't say a word myself. But I have read too much nonsense and lies. Some made my children suffer. I've had enough," the fan favorite explained his decision to speak.
"It all started in April 2016, when Francesco had just stopped playing football. Depression gripped him. "I stopped playing and shortly after that my father died of the coronavirus. Then I got sick too – it was a terrible time for me. My wife was gone when I needed her most. In the spring of last year there was a crisis in our relationship. There was no more dialogue – there was nothing more. There were rumors in the past – both about her and about me. I couldn't sleep . I pretended that nothing was happening, but I was no longer myself," the genius master does not hide his weakness.
The 45-year-old legendary ten calls the claim that everything happened because of his infidelity a lie. According to him, Ilari cheated first with Totti's personal trainer – Cristiano Iovino.
"It's not true that I'm the first to cheat. Last September, rumors started reaching me: 'Look, Ilari has someone else.' In the 20 years we've been together, I've never looked at a woman's phone me. Nor did she check me. But when I got warnings from various people I trust, I got suspicious. I looked at her cell phone. And I saw that there was a person who acted as an intermediary between her and the other. I read: "I will see you at the hotel".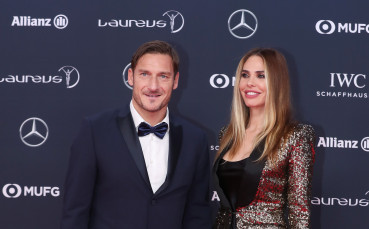 Francesco admits that they are both to blame: "It's always 50/50 in situations like this. I should have spent more time with her."
Totti does not want the two to go to court. "I hope we can reach an agreement and turn the page." I don't know if you fully realize it, but that day cost me half a year of my life. I'd rather give thousands of interviews to talk about football and Roma, who are forever in my heart," concludes the Roma legend.