After finishing sixth in La Liga in the 2002/03 season, Barcelona decided to sign Ronaldinho from PSG in a €30 million deal.
The purchase of the former Brazil international proved to be a stroke of genius and he helped catapult the Catalans to glory, personally claiming the Ballon d'Or in 2005.
Almost 20 years ago, however, Ronnie was not the only new arrival at Camp Nou, although none of the other new signings were able to shine as brightly as him.
We recall who Barca's incoming transfers were prior to the 2003/04 campaign when the Brazilian wizard arrived.
Ricardo Quaresma
Once considered a bigger talent than even Cristiano Ronaldo, Quaresma was at Sporting Lisbon before joining Barcelona in a sensational transfer. The enigmatic winger failed to live up to expectations at Camp Nou, scoring just one goal in 28 appearances in all competitions in his first season at the club. After a spectacular scandal with Frank Rijkaard, he refused to play under the Dutchman and returned to Portugal to become a Porto player. Deco took the opposite direction.
"Rijkaard wanted me to play a certain way and I tried to do it," Quaresma told "O Jogo" in 2004. "I changed my style of play to please him, but it always ended the same way. Or I stayed on the bench or not in the group at all. Then I decided to try to play my game and then we started to have disagreements. At first I was playing and things were going well, but suddenly the worst period of my life came and the coach did not give me an explanation about the events that followed. From today I don't want to explain what happened to me in Barcelona."
Rafael Marquez
One of the most underrated players of his generation, Marquez joined Barcelona from Monaco for the bargain price of €5 million. During his seven years at the club, the defender made 242 appearances and won 12 trophies, including four La Liga titles and two Champions Leagues.
"I feel lucky to have been part of this change, of this revival of Barcelona," Marquez told Mundo Deportivo in 2020. Masia Xavi, Puyol, Valdes and others. Later we won big titles. They were easy to play with. You just give them the ball and the difference was there. I loved playing with Xavi, Iniesta, Pique, Edmilson and the rest. Playing to Puyol gives you important security, and having a goalkeeper like Victor gives you peace of mind that if the ball does go past you, you have insurance. I watched him at the back and enjoyed the great play of Ronaldinho and Leo Messi. They were great times. "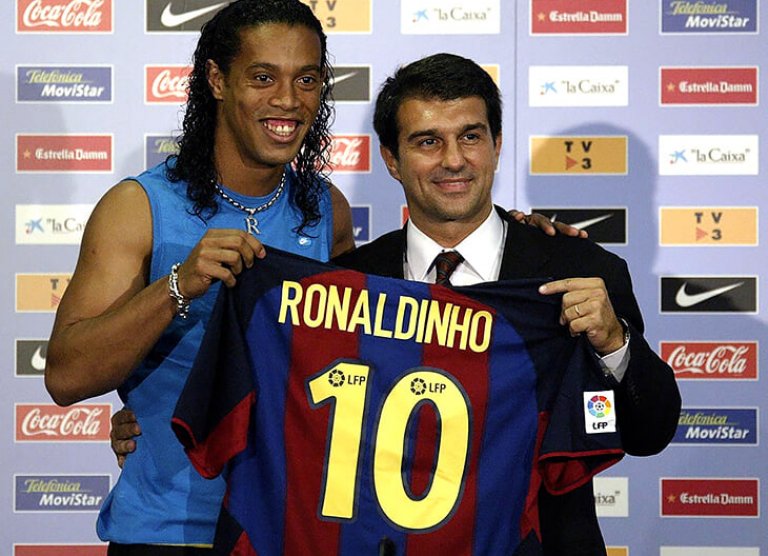 Rustu Rechber
One of the stars of the 2002 World Cup rejected offers from Manchester United and Arsenal before signing for Barcelona on a free transfer.
Despite being considered one of the best goalkeepers in the world, he had to play second fiddle to the young Victor Valdes due to his inability to speak Spanish.
"It's not normal to be a reserve because you don't know the language – the Turk was indignant in 2003 – That was the excuse the coach gave me that Valdes was a starter. I have to accept it, but it's difficult. It's not normal to be a goalkeeper with my business card to be a backup because he doesn't speak Spanish well. There is a universal language in the world of football, but I don't want to cause problems. However, if there is any other problem, I would like the coach to tell me to my face."
The former Turkey international made just seven appearances for the club and returned to Fenerbahce in 2004, initially on loan and then on a permanent deal.
Giovanni van Bronckhorst
Initially brought in on loan from Arsenal, Van Bronkhorst managed to establish himself in the Barcelona team and was bought for just €2 million in 2004.
Having previously played in midfield, he developed into a reliable left-back during his four years in Spain and formed a brilliant partnership with Ronaldinho on the flank. The former Netherlands international won two La Liga titles, two Spanish Super Cups and the Champions League, with success coming over familiar Arsenal in the 2006 final.
Mario Abrante
After Frank de Boer and Philippe Cristianval were released, Barcelona signed Mario on a season-long loan from Real Valladolid. The centre-back made just one La Liga appearance for the Blaugranas, starting in the ignominious 5-1 defeat at Malaga in early December 2003.
.