Entertainment
"A movie that will kick your ass" – first teaser of the new "Indiana Jones"
It's finally here. After quite a long time of dropping information on an hourly basis, we can now see the first teaser trailer for the long-awaited fifth film in the series about our all-favorite Indiana Jones.
It will be called "Indiana Jones and the Dial of Destiny," and the great Harrison Ford returns as Indy, this time alongside "Fleabag" star Phoebe Waller-Bridge.
From the video, we learn that Jones once again becomes embroiled in an epic story and embarks on yet another adventure, even though he thinks those days are long "gone."
The story will take place in 1969 against the background of the space race between the USA and the Soviet Union.
This time, Indy will have to deal with former Nazi scientist Fowler, who finds a job at NASA after World War II. However, he clearly also has old scores to settle with our action archaeologist.
It will be a story that combines a bit of historical fact with a lot of fiction, mystery and fantasy.
"I don't believe in magic, but a few times in my life I've seen things. Things I can't explain," we hear him say amid dynamic action scenes across continents, car and motorbike chases, fighting Nazis and several supernatural moments.
All this will also include a big scene during the ceremonial parade in New York to welcome the astronauts who landed on the moon. In it, we see how, for an inexplicable reason, Jones rides a horse, and at some point ends up in the subway with him.
It also reminds us of the importance of not going to a whiplash.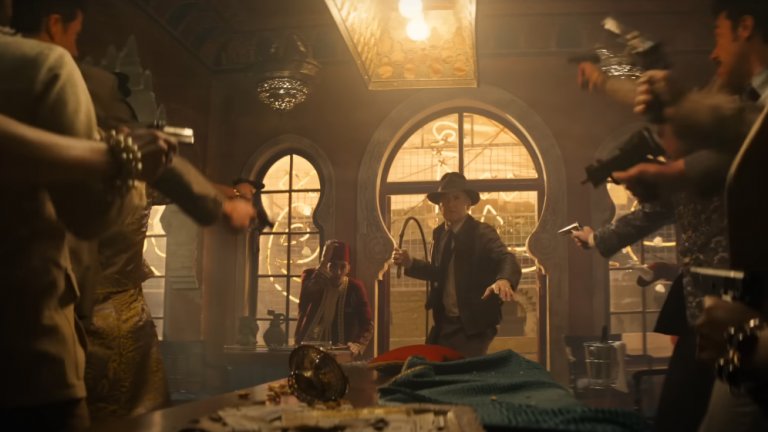 Photo: YouTube
Interestingly, for the opening moments of the film, when the action will take place during the Second World War, director John Mangold's team used special software to digitally rejuvenate the 80-year-old Ford to look the same as we know it from the first three films.
The program looks at old recordings in which the actor is younger, and then synchronizes them with the newly shot footage.
Even Indy's original jacket used for Raiders of the Lost Ark was dug out of storage and tested by Ford before a new one was created thread by thread.
Along with Harrison Ford himself, the fifth part of the series will also feature Mads Mikkelsen ("Hannibal") in the role of Fowler, Boyd Holbrook ("Narcos") as his assistant and Antonio Banderas, whose role is still not very clear.
Of course Indy won't be alone in the fight. He will once again be joined by veteran John Rhys-Davies ("Indiana Jones and the Last Crusade") as Salah, Toby Jones ("Queen, Pop, Ace, Spy") and Phoebe Waller-Bridge (Fleabag).
This will be the first Indiana Jones film not directed by Steven Spielberg and not using scripts by George Lucas.
It will certainly be Ford's last, though.
"We have a human story to tell, and a movie that will kick your ass," he said at a Disney event in September. "That's it! There won't be any more."
It is expected to premiere on June 30, 2023.
.